The Lake
4 journalers for this copy...
This isn't one of Laymon's best efforts, but it is still a pretty good read.

I'm sending this one out to several friends from our horror trading yahoo group. Hopefully someday it will return my way!

First to Jarrod

then:
Jamie
Annie
Vampie
Nadia

If anyone else wants to join in just email me.
---

Journal Entry
2
by

jare

from
Port Richey
,
Florida
USA on Friday, December 31, 2004

The Lake has arrived, safe and sound! My last bookring to arrive in 2004! Thanks for sharing this Tug, I think this will turn out to be my first read of the new year!
From the
Richard Laymon Kills!
website:
Leigh is young, rebellious and beautiful - and she yearns for a summer of excitement by the lake. Maybe she'll find it in the arms of the handsome boy who rows her out to the abandoned beach house. Or maybe she'll stumble into a legacy of terror which will shatter her life...
Eighteen years on, Deana has no knowledge of her mother's troubled past and not that much interest. She just wants to make out somewhere cool with her boyfriend - to let her hair down and live a little. If only living were that simple. But that summer at the lake casts a long shadow. And when the horrors of the past meet the perils of the present, both mother and daughter are plunged into a nightmare of blood and terror from which there is no escape.
---

Journal Entry
3
by

jare

from
Port Richey
,
Florida
USA on Sunday, February 06, 2005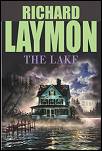 Another Laymon to add to the notches on my ax-handle ! This was an interesting one. For one thing, you could tell in quite a few places that this was a trunk novel, that Laymon did not have the opportunity to make touch ups. Those moments were slight though and really took nothing from the overall experience.
*** SPOILER ***** Drag mouse across blank space to highlight spoiler area ****
One of the strange things about this book is that Laymon didn't kill off at least one of the main characters. I get so used to not getting too attached to them because I know at least one will die. No main character choked here! Of course, there were so many moments when I just had to ask "WTF???" The biggest annoyance/flaw for me here was right after Leigh gets back from Mace's place and figures out he's a psychopathic killer, not to mention Deanna's uncle... she goes home and tells Deanna all about it, then gets the call from work telling her there was a major situation. Knowing there is a killer out there after her daughter, she leaves her home alone while she runs to the restaraunt?? Ok, I let my steam out, I'm totally over it. I did love the ending of this one. The little wrap-up written by Deanna was a nice touch, and felt a bit emotional to me.
**** end SPOILER
Thanks for sharing, this, Tug, I will have it out to Jamie this week!! Delivery confirmation number 03041560000318452581
---
This arrived in a box of goodies from my buddy Jaremeister. Thanks Jare:) This is up next after To Wake the Dead.
---
While it wasn't his best story, it was much more cohesive overall than some of the novels that have been published since his death. Overall, I mostly enjoyed it though there are a lot of loose ends...i.e. whatever happened with the trolls below the bridge? Things like that. I wonder if it was one of his story drafts that hadn't been through editing after his death? There were some good points to the story though and Laymon definitely had the market cornered on breast fixations;-)
---
Journal Entry
6
by
jamieh2003
at on Thursday, March 03, 2005
Released 16 yrs ago (3/4/2005 UTC) at
WILD RELEASE NOTES:
RELEASE NOTES:

to anni99 via media mail along with To Wake the Dead.
---
---