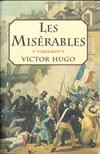 Les Miserables
5 journalers for this copy...
It's a great story - "one of the great novels of western literature". It's also enormous - 1260 pages in this paperback edition, and some parts of it are in French. I kept this book around for years just to prove I read it.
---
Mailed to PJW - a new book crosser.
---
I think this might be the biggest non-textbook I've ever seen. Robert Jordan would be green with envy. Thanks so much for sending it. I wonder who I could release it to who wouldn't be daunted by the size after I've read it...
---
A decent book, but I liked the musical better. :-)
The author devoted several
pages
to justifying why he had written the thieves' conversation in
argot
, and there were a bunch of useless digressions like that. :-/
It's interesting to note that by the time I got around to reading this book I had moved across the country, close enough that the person who originally mailed it to me could have brought it over to my apartment.
I'm going to make a post on the forums to see if anyone else wants it. It came in as an RABCK, so it should go out the same way.
Condition note: The book has a few teeth-marks on it that it didn't have when I got it. They were inflicted by a 4-month old bunny-rabbit named Hope.
See Photos
---

Journal Entry
5
by
eastbaybookmisr
at
Oakland, California USA on Saturday, July 03, 2010
Received in today's mail as a RABCK! Thank you!
1998 Quality Paperback Book Club edition of the 1862 epic, at 1260 pages in length, set during the French Revolution. This was on my list of the best 100 novels to read. Cover art on this edition is from "Defense of a Barricade" colored lithograph.
I can let this go after I read:
1831
The Hunchback of Notre Dame
[read 2011]
Edit August 28, 2011
: Wow, I finally finished this one. Took a lot of skimming, though I enjoyed the "abridged" story, and quite a moving ending. Jean Valjean is a character I will surely always remember. And Cosette, and Fantine.
---

Journal Entry
6
by
eastbaybookmisr
at
Ithaca, New York USA on Sunday, August 28, 2011
... will be shipping this off soon in a box-o-books as donation to the 1001 Library, from the rarities wishlist (unabridged Charles E. Wilbour translation).
---
On behalf of the library, thanks.
---
This novel is very long, in part because of Hugo's famous digressions, but mostly because it covers a large extent of time and a large cast of characters. For my part, I spent an entire week of vacation reading it when I was about 12 years old (in the Wilbour translation), and then went right back and read it again, enthralled by the drama and delighted by the authoritative way the story is told. The only parts I skipped over then were the celebration of the austerity of nuns in a convent (later read it, and was impressed by the writing though not the sentiments), and the discussion of Parisian slang, which it's really impossible to make meaningful for an English speaker. Naturally, the attempted revolution was the dramatic high point of the story. Jean Valjean, the main character whose life provides a framework for the novel, was actually one of the least interesting characters for me. Nonetheless, his relentless pursuit by Inspector Javert is another dramatic thread through the work; Javert, far from being a villain as some second-hand accounts make him out to be, is honorable and principled, and though principle without empathy and flexibility is excessively harsh, Javert is just as harsh toward himself as toward anyone else. I've reread the novel again recently, and continue to be fascinated by it.
---
Journal Entry
9
by
1001-library
at
Helsinki, Uusimaa / Nyland Finland on Wednesday, November 30, 2011
Thanks so much for your donation
Vasha
!
This book is now part of the
1001-library
. If you want to take this book from the library but don't know how to proceed, please refer to the
1001-library bookshelf
.
---