Christmas Books
2 journalers for this copy...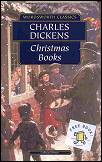 I picked this one up at the second-hand store to go with my card for the X-mas exchange.
Of course the first story in the book is the famous Christmas Carol featuring Scrooge. I realised that although the story is so familiar to me, I had never read the original. So now I finally did.
Of all the versions that it is been made into I like the Muppet Christmas Carol best. They have used all of the key dialogue, so it was hard for me not to picture Bob Cratchit as Kermit the Frog :)
Merry Christmas to all!
---

Journal Entry
2
by

KYH

from
Siegburg
,
Nordrhein-Westfalen
Germany on Monday, December 13, 2004
What a surprise!
Thank you for the first "Christmas-Present" of this year ;-)
---

Journal Entry
3
by

KYH

from
Siegburg
,
Nordrhein-Westfalen
Germany on Friday, January 18, 2008
Well, I had my problems in reading Dickens English.
So I decided to get a german translation (*) to look up word or paragraphs I had problems with.
To my great astonishment I had to realise, that the German translation missed not only the best part of Dickens language, the little ironic bits, it missed whole paragraphs!
Obviously the translator(s) of this book (the german version was published in 1979 and used an even older translation) have decided, which part of the story is vital for the story itself and which is "pure description".
I was not amused! Espeially because it isn't mentioned!

So I ended in reading most of the stories in english and one and parts of others in german, just to releax...

I liked the Christmas carol but I had problems with the bells.
The rest was nice, but maybe it isn't a good idea to read them all one after another....

(*) Weihnachtsmärchen ISBN 3-8118-0062-0 Moewig-Verlag
---