Watership Down
2 journalers for this copy...

---

I've been wanting to read this book since a long time and Pytus kindly offered to lend me his copy. Thank you, for bringing it all the way down to Maastricht! I'll take care of it and return it as soon as I've read it.
---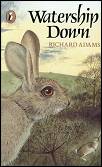 Pytus, thank you SO much for lending this to me, I LOVED the book! It took me quite some time to read it, not because it was difficult (which it wasn't), but because I unfortunately didn't have much time to read. The first three quarters of the book took me about two or three weeks, reading one or two chapters at a time. But once I came to the point where the rabbits went on their second expedition to Efrafra, I was so caught up in the story and the adventure became so engrossing, that I just had to keep on reading! I finally closed the book with a big sigh, actually regretting I had finally finished it, I would have liked it to go on and on and on... ;-)
I think I'll buy a copy to read to my child in a few years. Thanks again and I'll get it back to you as soon as possible.
edit 1: By the way, I found it hilarious that the sea gull had a German accent!
edit 2: The book is in the mailbox as of Friday, August 26
---

---