Harry Potter and the Order of the Phoenix (Book 5)
3 journalers for this copy...
Part 5 in the Harry Potter series.


---

Journal Entry
2
by

jare

from
Port Richey
,
Florida
USA on Monday, December 06, 2004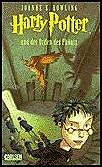 This came in the mail today, thank you so much for sharing! I'll pass on to someone else after I read it!
Cover blurb:
There is a door at the end of a silend corridor. And it's haunting Harry Potter's dreams. Why else would he be waking in the middle of the night, screaming in terror?
Harry has a lot on his mind for this, his fifth year at Hogwarts: a Defense Against The Dark Arts teacher with a personality like poisoned honey; a big surprise on the Gryffindor Quidditch team; and the looming terror of the Ordinary Wizarding Level exams. But all these things pale next to the growing threat of He-Who-Must-Not-Be-Named--a threat that neigher the magical government nor the authorities at Hogwarts can stop.
As the grasp of darkness tightens, Harry must discover the true depth and strength of his friends, the importance of boundless loyalty, and the shocking price of unbearable sacrifice.
His fate depends on them all.
---

Journal Entry
3
by

jare

from
Port Richey
,
Florida
USA on Sunday, December 04, 2005
Wow! This was just awesome! I must admit, I am among those who got emotional while reading this book, the last 50 or so pages had me in tears. Very intense. The book was very dark, which I had heard, but didn't expect some of the turns it took. As I've said over and over again, I love this series! So very addictive. I have a bookring I'm reading next, but as soon as I'm done, I think I can divine HP 6 in my very near future!
---
SWEET!!! Thank you for the surprise :) I plan on starting a ring with this. Hope it has fun traveling the world. :)
---