The Spirit Woman
2 journalers for this copy...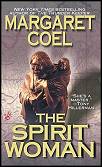 From Publishers Weekly
Now that Jesuit Father John O'Malley has just been reassigned from the Wyoming reservation he's called home for the last eight years, his undeclared love affair with Arapaho attorney Vicky Holden seems finally over in the sixth installment in this well-regarded series. Besides, Vicky's back with ex-husband Ben, an abusive alcoholic who says he's changed. Then Vicky receives a visit from old friend Laura Simmons, a historian who's convinced that the memoirs of 19th-century Shoshone heroine Sacajawea are stashed somewhere on the reservation. Years before, another female historian disappeared while searching for those memoirs, and within days of her arrival Laura is missing, too. Possibly Laura's disappearance has something to do with the arrival of her abusive boyfriend, but as Vicky and Father John investigate, they become convinced that someone on the reservation has come between Laura and the memoirsAif they exist. Coel stretches to form links between the "fragile" past and the shifting present, as Vicky realizes that she, Laura and various secondary characters are all daughters of SacajaweaAbattered women struggling to survive their battering men. It's an arresting theme, but overstated here, as the male characters are almost uniformly controlling, alcoholic, philandering failures who insist in falsettos that their victims understand their "rage." Readers will be engrossed in the expertly crafted suspense, but may wonder how much longer the passion between Father John and Vicky can smolder. 6-city author tour. (Sept.)
Copyright 2000 Reed Business Information, Inc.
---

Offered by eureka79 on 2004-11-17 09:21:03
Still Available
Part of the
"A little bit longer now"
Relay
Journal ID: 2198483
---

received today. thankyou so much. sounds really interesting. will journal again once read.
---

Journal Entry
4
by
gypsyrose02
at
Byford, Western Australia Australia on Sunday, October 02, 2011
ready to travel
---