The Happy Hooker
Registered by

innae

of
Aurora
,
Colorado
USA on 10/2/2004
3 journalers for this copy...

I got this from a lot I won on ebay. And well, this particular copy is in its 19th printing!! Popular it is...I wonder why??
---

The biography of Xaviera Hollander, a madam in New York in the 60's. It was eh. For a book about a hooker, the sex was very benign. Almost professional...and on second thought, I guess that makes sense. Sex for Xaviera was often not about passion, but about business.
I am going to try to start a ray with this soon.
I list my bookrings at
The Bookring Directory
!
RAY ORDER (subject to change)
JennyC1230 (USA)
okyrhoe (Greece)
---

CONTROLLED RELEASE NOTES:

This will be headed out on my Over 18 bookspiral shortly.
---

This one arrived yesterday and I have started reading it already. I have read at least one other book similar to this. The one I read was supposed to be based on a true story, but I have my doubts. It also came out in the early 1970's. It's interesting, but like innae said the sex is relatively benign so far.

Thanks for sharing innae!
---

I finished this one last night. It's hard to put into words what I think about this book! It's really different! It's supposed to be provocative and it is, up to a point. I guess it's hard for me to look at sex as a way to make money. Most of the book was about her business and other things besides sex. I bet a lot of people buying this book looking for erotica were suprised to find there wasn't much of it. I read a similar one:
Some Like It Dark by: Kipp Washington
which was written using an alias.
More info on
Xaviera Holland
.
I have the address for okyrhoe, so I will send this soon.
---

Sending to okryhoe. I wish I could tag along because I adore Greece! :-)

Enjoy the book!
---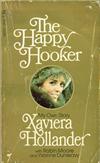 Arrived in Athens today. Thanks
innae
for including me in the bookray, and
JennyC1230
for posting it to me!
I've received a whole bunch of ring/ray books these past 2 weeks, so I might take a while to add my review comments.
I've been looking forward to reading this, though, as I am interested in how Hollander's views compare with our perceptions of sexuality today.
---

---