Private Peaceful
3 journalers for this copy...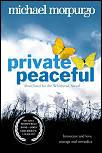 Not really a children's book - one of those rare cross-overs that covers real issues and doesn't talk down to young people. This comes highly recommended from a teacher friend...it made her class cry (even the boys!)
(18/10) From the blurb, "As young Thomas Peaceful looks back over his childhood from the battlefields of the First World War...the clock is ticking, and every moment Tommo spends remembering how things used to be, means another moment closer to something which will change his life for ever"
Told in flashback, during a long night's wait, Private Peaceful looks back to his rural childhood in England from the hell of Ypres. His was not a normal or particularly easy life; struggles at school & home, guilt about his father's death, living in the shadow of his older brother (soon to be another Private Peaceful) and unrequited love. The story, in France and England, is also peppered with other pantomime villains, The Colonel, Mr Munnings and 'Grandma Wolf'. Tommo is not one of life's copers. But of course these trials & tribulations pale into insignificance, or rather become a rose-tinted idyll, when viewed from the trenches.
I've read a lot about WWI, so I didn't find anything particularly new in this book. I was very conscious of the intended teen audience, who maybe would not have a similar perspective; Morpurgo doesn't so much talk down to them, rather he signposts everything too much, a bit too anodyne, and (for me) doesn't really create a believable lead or even a credible war novel.
So, on the whole, OK, not a classic, but it works (has worked) if it introduces new readers to the history, and slightly darker themes. Oh, and last but not least, a good build up of tension and quite a twist at the end, so worth the wait.
---

Journal Entry
2
by
BookGroupMan
at on Wednesday, November 10, 2004
Released on
Wednesday, November 10, 2004 at about 2:00:00 PM BX time (GMT-06:00) Central Time (US & Canada)
at
Passed on to friend or family
in n/a, n/a Controlled Releases.
RELEASE NOTES:
Offered up to my book group. Maybe someone, one of them will wander here-a-abouts, one day, I can but hope :(
---

This has come back to me, read but not journalled, as the saying goes 'you can lead a horse to water, but you can't make him visit BC.com!'

I'll take it along to tomorrow's Ipswich meet-up
---

Have been wanting to read this book since reading The Butterfly Lion so I was very pleased to see it resting on the coffee table at the Ipswich meetup.
---
I have also been wanting to read this, so I was also pleased to see it on the table a few months later at the Unconvention ;)
---