Guggenheim Museum: A to Z
1 journaler for this copy...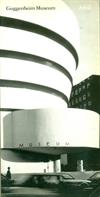 From Amazon.com:
"C is for Cézanne (and Chagall, Cornell, collaboration, and cultural activism) in the revised, redesigned handbook of the Guggenheim Museum's New York collection. The format is unorthodox: it's a little encyclopedia on topics from action (illustrated by de Kooning's 1955 Composition and 300 words by high-IQ critic Dore Ashton) to Gilberto Zorio (with a photo of the Italian artist's star-and-javelin sculpture and two helpful paragraphs by Guggenheim contemporary art curator Nancy Spector explaining what stars and javelins symbolize in his work). The reproductions are smallish but mostly eye-delighting, capturing at a glance, for instance, Picasso's leap from his first Paris painting Le Moulin de la Galette (done at 19 in 1900), vibrant in a Manet-meets-Munch way, to his still-startling cubist breakthroughs. Even the book's superb wraparound cover is a work of art: the Guggenheim by night, lit up by Dan Flavin's neon sculptures in exuberant surfer hues.
The entries range from more traditional thumbnail descriptions of artists and objects in the celebrated collection to some fairly arcane sections devoted to concepts like the fourth dimension (illustrated by a Braque cubist painting). The formidable art theorist Rosalind Krauss writes an entry on informe, elucidating French philosopher Bataille's principle of "formlessness": "Although Bataille's analogue for the informe was the crushed spider or the blob of spittle, and though Miró's detour from painting took the form of working with trash, Giacometti's example of formlessness cannily assumed a highly polished, even geometrically simple set of shapes." If you're up on art, you're intrigued; if Krauss confuses you, don't panic--simply turn to the accessible entry on Giacometti, which is more straightforwardly biographical.
I'm not sure an alphabetical listing is the best way to put the Guggenheim's awesome 20th-century masterworks in the clearest possible context. But this handbook is concise, lively, handsome, and a bit perverse. --Victoria Ellison"
---

---