The Glass Menagerie
Registered by
cambridgelass
of
Cambridge
,
Cambridgeshire
United Kingdom on 8/25/2004

This Book is Currently in the Wild!
2 journalers for this copy...
I read this for school and really enjoyed it. I've read lots of plays before but not one as different as this. A family during the depression in America, it all takes place in the family home, that itself sets up some interest.
---
Released on
Wednesday, August 25, 2004
at
Starbucks in Borders book shop
in Cambridge, England United Kingdom.
will be released at the cambridge meet up.
---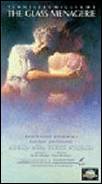 Don't get too excited, its only me :) This was the last of the recent Cambridge meet-up books that I haven't otherwise distributed. I quite fancied the look of this, not having 'read a play' since auld Bill Wobbleshaft at school, about a million years ago. This is the real deal with stage & artistic direction, "The music subsides", "AMANDA closes her eyes and lowers her head. Count ten" and extra notes from cambridgelass to help the reader ;) This would be perfect for a themed release later, the Arts Theatre maybe...
(18/09) Review to follow
---

I really enjoyed this, although i'm not a short story fan normally; I sometimes feel a bit cheated that an author can't sustain a story and develop the characters so that it stands in its own right as a novel. The exception is when there is a strong thematic link between chapters or 'episodes' - like Joyce's Dubliners or Martin Amis's History of the World in 10 1/2 Chapters. I digress. This works as a shortish book, because it is written as a play, constrained by what has to happen on a stage, by a limited cast, in a certain timeframe. I even liked the stage instructions for lighting, background music, character actions etc. It felt like I was at the theatre watching, v. strange!

Amanda Wingfield and her 2 children are trapped in a poor & unfulfilled existence in a tenement in St Louis during the 1930's depression. The action is set around the matriarch's attempt to contrive a match for her fragile daughter. Laura is practically a recluse, physically disabled, socially stunted, at ease only when she is looking after her collection of glass animals (the menagerie of the title). Laura's brother Tom is destined to seek excitement & adventure and follow in his absent father's footsteps. I'm certain the reader/audience is expected to find the mother unlikeable; overbearing, controlling & brittle. But I quite liked her, and found the children self-interested & weak. At least Amanda has a strong idea of what she wants, to re-capture the certainties of her youth, and to gain the best for her family; however misguided and unrealistic. Of course, both Laura & Tom will disappoint her, symptomatic of the era and the general 'southern' malaise throughout the book.

Thanks for this CambridgeLass. I will release or pass on.

---

Released 15 yrs ago (10/15/2004 UTC) at
WILD RELEASE NOTES:
RELEASE NOTES:

Should feel at home near the theatre. At least its out of the rain :)
---