Bones: A Forensic Detective's Casebook
7 journalers for this copy...
---
Journal Entry
2
by
Luintaurien
at
OBCZ - The Mill - 800 P Street in Lincoln, Nebraska USA on Friday, April 29, 2005
Released 14 yrs ago (4/29/2005 UTC) at OBCZ - The Mill - 800 P Street in Lincoln, Nebraska USA
WILD RELEASE NOTES:
RELEASE NOTES:


---
Caught it at the Mill in Lincoln, Ne, USA on 29 April, 05... to be read, will then be again "released into the wild".
---
While Wufmama and I were looking for any characters who might possibly be bookcrossers, I noticed this book in her hand about to be dropped into a bookcrossing box at the Mill, and I quickly snatched it away for myself.
---
I was *trying to release back into the wild*...but my friend tabithadarling was with me at the Mill...and grabbed it out of my paws before it could hit the box of released books....LOL...so I guess this counts as a "controlled release" hehehe.
---
We seem to be struggling a bit getting this to set as not traveling. Next time we'll know better how to do a controlled release. Well maybe--we don't have much control.
---
Ah! One of my favorite subjects! Thank you Wufmama and Tabithadarling.

(later) An excellent book for forensic anthropology, not so great for people who like an "end" to their story. Many of the unidentified remains, sadly, remain unidentified and so very often that is where the tales in this book trail off. I would have like to known further about some forensic processes such as the skeleton that arrived in a solid block of soil because the investigating police detective wanted the lab to see everything 'in situ' yet nothing more is mentioned about it other than a single paragraph in the book.

On its way to nicolesinger.
---
Thanks, reulte!

This looks like fun - some light reading to relax with now that finals are over. (It actually arrived yesterday afternoon, as I was struggling to study for a test and finish a project.) This book already has a great travel history - I'll have to consider carefully where to pass it along when I'm done.
---
I enjoyed this - on the one hand, it might have been interesting to follow certain cases or processes more closely; on the other, it was an interesting dip into the subject and easy to pick up and put down without losing the thread of the book. (And I found that I did put it down, sometimes for days or weeks - it's not one of those books that just won't let go!)

It was especially interesting to encounter cases I'd heard of elsewhere. (Best example I can think of was a man who killed his wife with a hammer and then said she'd been kicked by her horse - Ann Rule did the same case!) It would be interesting to see how new computer processes and advances in DNA testing have affected forensic anthropologists' ability to identify bones. And if the book is ever reprinted, I hope the publishers will update some of the unidentified victims.

The book is AVL for trade or release.

Update - this book was sent to KarmelK for the Well-Traveled Release Challenge.
---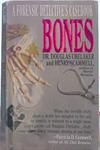 Bones came in the mail today. This is a well journalled book from nicolesinger that I traded a couple of handsome men and a bunch of animals to get. Not a very shrewd bargainer, I'm not. But if it gets me a catch, it'll be worth it. I'm not much into murder and mayhem, but I'll read a little bit and take it on a field trip to the cemetary. I'll let it visit a few other bones and then I'll gives this book it's freedom.
Thanks NS.
This book is being entered in the Well-Travelled Wild Release Challenge.
---

Journal Entry
11
by
KarmelK
at
Ye Old Skull Tattoo on Mechanic downtown in Jackson, Michigan USA on Thursday, June 15, 2006
Released 13 yrs ago (6/15/2006 UTC) at Ye Old Skull Tattoo on Mechanic downtown in Jackson, Michigan USA
WILD RELEASE NOTES:
---

Journal Entry
12
by

AnonymousFinder

on Friday, June 16, 2006
we'll read it

CAUGHT IN JACKSON MI JACKSON
---