The Stone Carvers
2 journalers for this copy...

This was recommended to a while ago as a favourite book, so I was pleased to find a cheap copy in a 'remainders' book shop

(5/07) Finished, review to follow...
---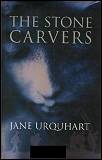 So you've never heard of it? Well it was longlisted for the Booker Prize, "A wartime romance, lowlife adventure and modern parable…Urquhart's prose is as smooth and uncluttered as Margaret Atwood's"
The 'Stone Carvers' are creating a monument to the Canadian war dead, at Vimy Ridge in Flanders. This massive unworldly sculpture acts as a magnet for Klara Becker, who is trying to exculpate herself from the guilt of an unrequited love, and her rootless brother Tilman who is seeking (although he doesn't know it) his own sense of 'permanence' and love.
This is a pleasant enough book, although bit too heavy on the symbolism and abstraction for me. For instance, the book starts with a trip by a Bavarian Pater Archangel Gstir to the wilds of Ontario to build a mighty church as a fitting home for the bell that he has dreamed about. But, we then follow the story of Klara, the wood carver/seamstress from the same village (Shoneval), with a link to Gstir through her father but no other obvious plot connection. And then there is the drifter Tilman, designing woodland scenes for stoves...and then setting up a limb-making collective in Toronto for WWI veterans...and his Italian friend Giorgio the writer of names on gravestones...and then we have the sculptor Walter Allward (a real person btw) and his obsession with creating the monument...
So, in summing up, the book is about love found, love lost, love found again, obsession, redemption, wood and stone, the beauty of creation and the pain of destruction; I think :)
---

Picked up at the Ipswich meet-up. The "female incarnation of Sebastian Faulks' Birdsong" intrigued me.

I also acquired an unregistered audiobook, "The Stone Diaries" by Carol Shields, which I shall register , eventually. I'm not sure that audiobooks are my thing - the Radio 4 Afternoon Play is guaranteed to send me to sleep.
---