Und freitags Fisch
4 journalers for this copy...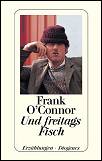 "Hergelaufene und Heruntergekommene, Säufer und Kirchgänger, Pfarrer, Mädchen, Matrosen und Mechaniker, kurz, das
wunderbare katholische Volk
der irischen Stadt Cork wird von dem Überzeugungs-Iren O'Connor porträtiert: mit Ironie, Spott und Bizarrerie." (Der Spiegel)
---
Journal Entry
2
by
Rohrspatz
at
sent to fellow BookCrosser in Duisburg, Germany -- Controlled Releases on Thursday, January 12, 2006
Released 14 yrs ago (1/14/2006 UTC) at sent to fellow BookCrosser in Duisburg, Germany -- Controlled Releases
WILD RELEASE NOTES:
RELEASE NOTES:

Reist mit erdlindes Irischer Bookbox IV weiter.
---

Hab' ich aus der 4. Irischen Bookbox genommen.
---

Es hat jetzt ja sehr lange gedauert, bis ich endlich mal dieses Buch in Angriff genommen habe, doch ich habe es nicht bereut! Jede der Erzählungen in dieser Sammlung hat ihren eigenen Charme, mal eher witzig, mal rührend und manchmal ließen sie mich auch sehr nachdenklich zurück.

O'Connors Stil gefällt mir auch gut, sehr trockener Humor, z.B. seine Definition von Ehe: "Er war ein Gewohnheitstier: dort hatte er am Tage seiner allerersten Ankunft in Dublin sein erstes Mahl eingenommen, und dort würde er auch in Zukunft hingehen, bis eine von den belangloseren Umwälzungen des Lebens, wie es die Ehe war, ihn in eine andere Richtung steuerte." (S.43)

Auch nimmt er kein Blatt vor den Mund:
"'Johnny!' rief sie. 'Was ist denn noch?' fragte Johnny gereizt, schlug den Jackenkragen hoch und lief über den Bürgersteig ans Auto.
'Sagen Sie doch mal, Johnny, warum haben Sie keine Bilder an den Wänden?' fragte sie mit Unschuldsmiene.
'Frag meinen Arsch!' zischte Johnny giftig und ging aufs Haus zu.
'Johnny!' rief sie. 'Johnny, wollen wir uns nicht einen Kuss geben und wieder gut Freund sein?'
'Küss meinen Arsch', brüllte Johnny und knallte die Haustür zu." (S.207)
Diesen Dialog konnte ich mir richtig gut vorstellen!

Die letzten Sätze der Erzählung "Der Kranz" (ein gestorbener Priester erhielt anonym einen Kranz aus roten Rosen und alle überlegen, ob es "sich schickt", den Kranz auf sein Grab zu legen oder nicht...) fand ich auch sehr treffend:
"Und jedesmal überfiel es ihn in einem Ansturm der Gefühle, dass das, was Jackson und er (zwei seiner Priesterfreunde) gerettet hatten (den Kranz), mehr war als nur eine sentimentale Gabe. Es war auch das, was sie beide mit Devine verbunden hatte und was sie in Zukunft miteinander verbinden würde: LIEBE. Nicht ein halb Dutzend Arten von Liebe, sondern immer nur das eine: zwischen Sohn und Mutter, Mann und Freundin, Freund und Freund." (S.254)
---

Das Buch darf übermorgen "nach Hause" reisen - zur Bookcrossing Convention nach Dublin!
---

Journal Entry
6
by
DEESSE
at
Camden Court Hotel in Dublin, Co. Dublin Ireland on Tuesday, April 10, 2012
Released 8 yrs ago (4/13/2012 UTC) at Camden Court Hotel in Dublin, Co. Dublin Ireland
WILD RELEASE NOTES:
Während der BC Convention - auf einem Büchertisch?
---

Journal Entry
7
by

AnonymousFinder

at
Dublin, Co. Dublin Ireland on Monday, April 16, 2012
Very excited to read it
---
Excellent translation with great rhythm that remains faithful to the original text.

WILD RELEASE NOTES:

Released in the IPLV of Université Catholique de l'Ouest in Angers, France.
---