Notes on a Scandal
2 journalers for this copy...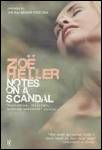 Picked up from Cancer Research in Woodbridge, all the charity shops were open as part of the summer street fair (or probably called 'fayre'). I'm resisting using the BCID which has the US cover picture and an oddly changed title..."What was she Thinking?" - no I don't understand it either?
(27/09) Review to follow
---

I like 'real' stories about real people in real relationships, better still if they are flawed (although not grotesques). I also like pathos, melancholia, the lives of individuals caught up in bigger events, the victims of circumstance and 'outrageous fortunes', also - as in this case - humans simply making a hash of their lives!

Why am I telling you this? Well, The Scandal of the title may or may not be shocking to you (or even very credible), but the characters are great. For different reasons I found the hero (anti-heroine?) Bethsheba 'Sheba' Hart fascinating, and her so-called friend Barbara sad & lonely, and worthy of our pity rather than condemnation. Without spoiling the plot, I tend to think of her account of the affair as honest and scrupulous - she's a dry, unimaginative, teacher, how else could she write? But, she is driven by strong forces, the need for fulfilment, for some sense of belonging & purpose, a husband, children, even a meaningful relationship of equals (erm…maybe). Heller also fills in the gaps around the main story with details of Sheba's life, with her rebellious daughter, older pompous husband, her domineering mother. All great little vignettes, although they don't all quite add up to a justification of the affair. After all, real life sometimes (often!) can't be explained, it just happens. The 'wronged' pupil Connolly is deliberately underplayed, merely a cipher, a means to an end. But the whole thing works very well, is well written (although prosaic rather than poetic), erudite and funny. An existential novel for the new millennium, a morality tale for the North London chattering classes!

Lastly, Heller does a brilliant and funny hatchet-job on the teaching profession; the petty politics, cliques & cruelties, worse even than the playground, closed off behind the staffroom drawn curtains. There's very little nobility amongst these teaching professionals. The headmaster Pabblem, now he is the true monster, a more puffed-up, power-crazed fool you couldn't hope to meet - except maybe at an NUT conference ;)
---

Set aside to share with my local book group (as a Bookring) and then on to a.n.other for wishlist
---

Journal Entry
4
by
BookGroupMan
at on Wednesday, October 13, 2004
Released 15 yrs ago (10/13/2004 UTC) at
WILD RELEASE NOTES:
RELEASE NOTES:

Sent out on the first leg of a 'bookring' to friends in my local book group. As they are mostly edjookashunalists, they should enjoy this (or at least recognise some characters!) I hope the 'ring catches on...
---

This has returned home, not journalled unfortunately :(

I will take along to tomorrow's Ipswich meet-up for someone else to enjoy
---

Picked up at Ipswich meetup yesterday, and already half read. Skillfully written. Zoe Heller uncannily conjures up the atmosphere of the school staff room...
---