And One Wore Gray
2 journalers for this copy...

HER YANKEE PRIDE IGNITED HIS REBEL PASSION
With her sunset hair and gray eyes that flashed silver, Callie Michaelson's wild beauty stirred the Confederate colonel's senses just as her courageous spirit touched his soul. Unequaled on the field of battle, Daniel Cameron was bewitched by this sweet enemy whose caresses alone could make him forget the horrors of war…and give him the strength to defy an encircling army for one forbidden night in her silken arms…

HIS SEARING GAZE TORCHED HER NORTHERN HEART
He was prepared to die for a cause Callie despised, but those eyes of blue fire that gazed at her from his battle-hardened face, melted all resistance. For as the fires of civil war blazed around them, as the fate of her beloved Union hung in the balance, Callie faced the most terrible choice a woman in love was ever forced to make…
---

promised to indymomto2/USA (October 2004) via a trade
---

Journal Entry
3
by
nikel27
at
Post Office in Trade, Ginsheim -- Controlled Releases on Friday, October 29, 2004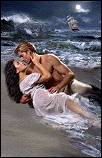 Released on
Tuesday, November 02, 2004 at about 9:00:00 AM BX time (GMT-06:00) Central Time (US & Canada)
at
Post Office
in Trade, Ginsheim Controlled Releases.
RELEASE NOTES:
Thanks for trading with me !!!
---
I've just gotten internet access for the first time in a long while and I'm in the process of catching up on bookcrossing activities. This is a wonderful story.
---