Dirk Gently's Holistic Detective Agency
3 journalers for this copy...
---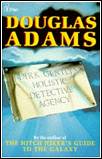 Received this as a little welcome gift from Indielibrarian - thanks very much!
Will read soon
---

I read this many years ago as a teenager, and I think it just gets better and better with reading. Douglas Adams truly was a comic genius, and his writing is so original and sharp... *sigh* I wish he'd finished the third Dirk Gently.

Dirk is one of those characters that stays wtih you, and I sense a little bit of Ford Prefect in him, sharp, witty, obstinate, clever. The characters of Richard the computer whiz-kid, and Reg the Professor are also well painted. The book needs to be read carefully, since the plot is quite complex, but its worth the effort!

This is a fantastic book. I'll hold onto it a little while longer, and then maybe pass it on as my first RABCK...
---

Sending to yllus 29th March 2005 as a RABCK (USA, economy post)

---
I am unbelievably rude!!! nice-cup-of-tea was so kind to send me this as an RABCK and I've neglected to journal. I am so sorry!!! Thank you again for your kindess. I promise to read next and then send off to the other person who had this on their wish list.
---
What a fun book, I'm so glad I finally made the time to read it. nice-cup-of-tea asked that I send this on to another bxer when I was through as it is on their wishlist as well. So, I've sent off for the address and will get it in the mail soon!
---