Eats, Shoots and Leaves: The Zero Tolerance Approach to Punctuation
2 journalers for this copy...

I've resisted buying this for soooo long, and I finally gave up and got my own copy. My excuse; well Lynne Truss was in Borders in Cambridge signing copies, which was nice :)
---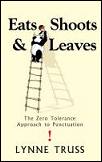 Brilliant book from a self-confessed punctuation stickler with vigilante tendencies. So many funny anecdotes about mis-used punctuation (yes I know this sounds dull, but work with me!), and I learned a lot about the history & correct use of commas, apostrophes and other minor characters in the pantheoon of 'Merely Conventional Signs' - i'm sure this was said by Lynne Truss as an understatement? It was interesting that she included a view on 'netspeak', emoticons and the impact of txt & email on literacy & punctuation.
I really did laugh out loud, maybe you won't, it's (apostophe 'it is') possible that I don't get out enough ;-)
An example of 'singular possessive instead of plural possessive'
"Nude Reader's Wives...conjuring up an interesting picture of polygamous nude reader attended by middle-aged women in housecoats and fluffy slippers"
Part of long-running dispute between humorist James Thurber and editor Harold Ross about the correct use of commas. The former was asked why he (Ross) put a comma in the sentence, "After dinner, the men went into the living-room". He replied, "(it was) Ross's way of giving the men time to push back their chairs and stand up" - sublime
---

Journal Entry
3
by
BookGroupMan
at on Wednesday, October 13, 2004
Released 15 yrs ago (10/13/2004 UTC) at
WILD RELEASE NOTES:
RELEASE NOTES:

A 'lend' to a fellow bookcrosser, cos he asked for it :)
---
Thanks to BOOKGROUPMAN for lending me this copy from his private collection. The book was an indicator of the many confusions I have had regarding punctuation. I am now much clearer as to the correct way(s) of punctuating and, in case I forget what I've learned, have bought my own copy!
---

...ah ha, Tim's hooked, he's gone and bought his own copy of ES&L! Mine PC copy returned safely, ta :)
---