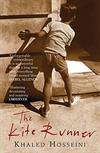 The Kite Runner
2 journalers for this copy...

Engaging story of corruption, guilt and «the way to be good again». Although the protagonist Amir is a procrastinating coward and rather the opposite of a charming hero; it is easy to follow him through the perilous grounds of Afganistan, when it was subjugated by the Talibs. It is a true page turner.
Though a bit short for the huge amount of war, crime and punishment. The actions happen so fast you hardly follow - that is, sometimes you would like to read more of it, more tiny details, if only to lengthen the story. Since you wish it would not end so quickly ....
This book describes a part of Afghan history of which was never told in fiction before. It's a subtle guidance through the rich culture and beauty of a land in the process of downfall and devastation. It also successfully ripped my heart into a bloody pulp, I had to cry often about the many enclosed tragedies.
---

Journal Entry
2
by
spy-there
at
Cool Books in Zürich, Zürich Switzerland on Saturday, September 23, 2023
in the fridge
-------------

Dear finder

Thank you for looking up Bookcrossing and entering the number. Please, kindly write a short journal entry, that you own the book now. You can do this anonymously, but it's much more fun if you'll become a member and write under your nick name. It's still anonymous, but you'll get a notification every time somebody writes a new entry. You are able to follow the book's voyage and read the opinions of other readers. Bookcrossing is fun, it's free and free of spam. Try it, it might change your life. Or at least your bookshelf ;)

happy reading
=^,^= spy
---

Journal Entry
3
by

AnonymousFinder

at
Zürich, Zürich Switzerland on Wednesday, September 27, 2023
Picked up Bookfridge, Sept 27 2023
---