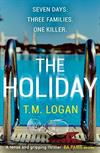 The Holiday
Registered by

Plum-crazy

of
Brighouse
,
West Yorkshire
United Kingdom on 8/15/2023

This Book is Currently in the Wild!
1 journaler for this copy...

Journal Entry
1
by

Plum-crazy

from
Brighouse
,
West Yorkshire
United Kingdom on Tuesday, August 15, 2023
It was supposed to be the perfect holiday - a group of families enjoying a week together in the sun. Four women who have been best friends for as long as they can remember making the most of a luxurious villa in the south of France.

But Kate has a secret: her husband is having an affair. And a week away might just be the perfect opportunity to get the proof she needs - to catch him in the act once and for all. Because she suspects the other woman is one of her two best friends.

One of them is working against her, willing to sacrifice years of friendship to destroy her family. But which one? As Kate closes in on the truth in the stifling Mediterranean heat, she realises too late that the stakes are far higher than she ever imagined . . .

Because someone in the villa may be prepared to kill to keep their secret hidden.
---

Journal Entry
2
by

Plum-crazy

at
Brighouse, West Yorkshire United Kingdom on Sunday, September 24, 2023
An easy read that's entertaining enough although the premise is nothing out of the ordinary: when four long time friends & their families meet up for a holiday in France, Kate suspects her husband is having an affair with one of her three friends... but which one? Well that is the question indeed!

There's plenty of twists to make you consider all the candidates again & again but somehow it always seemed obvious that each "clue" would be a red herring. Everybody is hiding something &, as parts of the groups history was revealed, I found it a bit hard to believe they'd stayed friends for so long! Even Kate herself says:
"What kind of friend was I? Perhaps I deserved everything that was coming my way"

The adults don't seem a particularly nice bunch.....until compared to three of the kids! The two teenage brothers are a dodgy duo, although their mother thinks they can do no wrong & as for the odious Odette... what a brat!

The story moves on fairly steadily - though much is about Kate dithering over which of her friend's husband Sean is having an affair with - & while the back cover has helpfully told us that someone is prepared to kill, it's a good 400 pages in (out of 480) before a death occurs. Pound to a penny you'll have suspected this person as being the killer at some point, I know I did but without a real reason. The motive came as a bit of a surprise although the clues were there & things wrapped up nicely.

Overall, a decent read that kept me interested to a satisfactory conclusion.
---

Journal Entry
3
by

Plum-crazy

at
Mill Road in Bintree, Norfolk United Kingdom on Sunday, September 24, 2023
Released 2 mos ago (9/24/2023 UTC) at Mill Road in Bintree, Norfolk United Kingdom
WILD RELEASE NOTES:
Added to the bookshelf in a holiday cottage
Released as part of the
2023 SEPTEMBER SAPPHIRE CHALLENGE (#148)



Congratulations - You've found a travelling book !

Here at BookCrossing we're trying to give books their own unique history by keeping a running log of all the places they've been and what their readers think of them.

You can help us to track this book's travels by taking a moment to make a journal entry - let us know where you found it, what you thought of it or where it's going next - write as much or as little as you like! You can remain anonymous or why not join us? If you decide to join us you will receive an alert every time someone new journals the book, helping you to follow it's travels as it meets new readers.

Enjoy the book!

(If you do decide to join Bookcrossing, please consider putting me,
Plum-crazy, as your referring member - thank you)

---