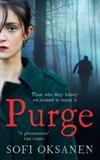 Purge
Registered by
spy-there
of
Zürich
,
Zürich
Switzerland on 5/28/2023

This Book is Currently in the Wild!
1 journaler for this copy...

A nasty, sad and claustrophobic story of jealousy and betrayal on the background of WW2 and the sowjet occupation of Estonia.
None of the characters is likeable. It's the old story of envious women who deceive each other instead of holding together. I couldn't really warm for the story. Everything was so over dramatized, like e.g. «Her mouth opened in a yell, but only a whisper came out.» Or howlers as «The beginning of the story she had just made up was struggling to get away, and Zara's mind lunged after it and grabbed it by the paws.»

This Zara got a bit on my nerves anyway. She flees through the nightly forest in high heels (!) - probably teeters the whole night like a heron over roots and undergrowth - instead of rid herself of those stilettos. As a true drama queen she keeps overreacting and falling "powerless to the floor". At some point you take her for a basket case. Zara wants to become a doctor? This exceeds my imagination.

A pity she didn't recount more about the historical background which I found rather more interesting than the spiteful interaction of the abominable figures. It's a bleak, depressing book about unrequited love, disenchantment and vengeance.
---

in the fridge
-------------

Dear finder

Thank you for looking up Bookcrossing and entering the number. Please, kindly write a short journal entry, that you own the book now. You can do this anonymously, but it's much more fun if you'll become a member and write under your nick name. It's still anonymous, but you'll get a notification every time somebody writes a new entry. You are able to follow the book's voyage and read the opinions of other readers. Bookcrossing is fun, it's free and free of spam. Try it, it might change your life. Or at least your bookshelf ;)

happy reading
=^,^= spy
---