The Electric Kool-Aid Acid Test
4 journalers for this copy...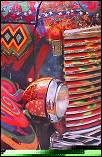 This book is an historical account of the people who started the hippie movement in the sixties - the Merry Pranksters. Everything in this book actually happened. LSD was discovered partly by accident in 1938 by
Albert Hofmann
. It was later tested extensively by the US government and CIA for about 20 years, on both paid volunteers and unknowing citizens. Ken Kesey (author of
One Flew Over the Cuckoo's Nest
) was one person who (voluntarily) took part in several experiments using different drugs. The subjects were never told what they were taking - but at some stage they were given LSD. This particular drug was different from the others, and many of the subjects had life-changing experiences as a result of 'seeing through new eyes'. Acid was still legal at that stage so it was only a matter of time before people got their hands on some and were able to start making their own and distributing it. So there you have the background to the book. Basically what happened next is that all the 'acid heads' moved to a particular area (Haight-Ashbury, in San Francisco) and began turning more and more people onto LSD. Some of these people formed a group, called themselves the Merry Pranksters, bought a bus, painted it psychedelic colours and then drove around America making a movie, holding "Acid Tests" and introducing people to LSD. The revolution had begun and the world would never be the same..... this is THE essential book for anyone interested in hippies, the sixties, or alteration of consciousness.
I find it incredibly frustrating that a substance which the government themselves used to test on unwitting citizens is now illegal. Oh, so it was alright to put it onto people who had no idea they were taking it, but if someone *wants* to take it, they get thrown in jail. Hypocrisy!
Furthur reading:
---
This book is being made into a bookay. PM me to be added to the list.
~instructions~
1. Journal the book when you receive it.
2. PM the next person on the list for their address when you receive the book.
3. Try and read the book within 1 month of receiving it.
4. Journal the book once you've read it, letting us all know what you think!
5. If you don't get a reply from your PM to the next person on the list, PM them again and let me know.
6. Send the book on to the next in line.
7. When the book reaches the end of the list, it is up to the last person to read & release the book how they choose.

The list of participants:
1. charbono - Australia
2. silverstarry - USA
3. djfil - USA
4. mom-of-one - USA
5. kirst040 - Australia
6. newk - Australia
- end of ray -
---

Journal Entry
2
by
charbono
at
by mail in by mail, A Bookray -- Controlled Releases on Tuesday, June 08, 2004
Released on
Tuesday, June 08, 2004
at
International Post
in postal mail, A Bookray Controlled Releases.
posted to silverstarry as part of the bookray.
---

Just received this from Charbono - can't wait to read it!
---
I loved reading about the Pranksters - one of the best classes I took in college was history of the United States in the 60s, so this was another great primary source of what was going on during that era. I probably would have been able to relate a little bit more if I was doing some serious drugs, but it was an enjoyable read nonetheless.

Mailed to djfil today.
---

Received today! Am putting aside my current read to start this right away. I'll update once finished.
---

Just wanted to check in- I'm getting involved in this story now. The road trip was a good build up, but the novel gets much more interesting and fun once they land back in Cali. I especially like the Hell's Angels chapter. I'm at about page 200. Should have it finished in a few more days.
---
I enjoyed the book. It took a bit to get used to the style, but once the novel progressed I noticed the tell-tale signs of enjoyment. On top of the entertainment value, I learned much about Kesey I did not know and the slice of history comprised of the years before I was born. I appreciate being able to read this. Thanks charbono! I will pm paradigm9x for address.
---
---

Got this in the mail last week. I'm just finishing up one other book and I'll get on to reading this one! I can't wait! I've been wanting to read this for years!
---