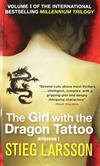 The Girl With The Dragon Tattoo
Registered by
cluricaune
of
Armagh
,
Co. Armagh
United Kingdom on 4/30/2023

This Book is Currently in the Wild!
1 journaler for this copy...
Stieg Larsson was born in 1954, was a journalist and an expert on anti-democratic and far-right organisations. He died suddenly in November 2004, shortly after delivering the manuscripts for three crime novels - known together as the Millennium Trilogy - to a Swedish publisher. "The Girl with the Dragon Tattoo" is the first part of this trilogy.

Mikael Blomkvist is a journalist based in Stockholm. As well as writing for the current affairs magazine, Millennium, he's also the publisher and part owner - alongside Christer Malm and Erika Berger. (Christer acts as the magazine's art director and designer while Erika - the magazine's majority partner - is the editor in chief. She and Mikael first met at journalism school twenty years previously and have always had a hard time keeping their hands off each other. Mikael's marriage eventually failed because of his feelings for her. Erika's is still intact, though her husband knows and can apparently live with what's happening).

Millennium isn't yet a big player, but things had been moving along nicely - the magazine's circulation and its advertising revenue had both been rising steadily. However, trouble is looming thanks to an article written by Blomkvist where he claimed Hans-Erik Wennerström - a very wealthy financier - had used state funds for shady arms deals. At the time of writing, he was certain his story was good and his sources were solid - in fairness, it does seem clear that Wennerström was up to something very shady. However, things haven't worked out the way they should have : when we first meet him, Blomkvist has just lost a libel action brought by Wennerström. In order to protect Millennium from Wennerström and his circling lawyers, Blomkvist decides to step down from the roster and take a good, long break.

As he's clearing his desk on Christmas Eve, Blomkvist takes a telephone call from Dirch Frode - an aging lawyer, acting for Henrik Vanger. The name alone is enough to grab Blomkvist's attention - although now retired, Vanger is well known as an honourable `old-school' businessman whose name still carries a great deal of clout. (Vanger's nephew is now in control of the Vanger Corporation - it's not quite the elite company it once was, but it's still more than respectable). It appears there's a freelance assignment on offer, though Blomkvist has to travel to Vanger's place for the details. Officially, he'll be writing the history of the Vanger family; unofficially, he'll be investigating the disappearance of his Vanger's niece, Harriet - who Henrik is convinced was murdered nearly forty years previously. In return, Blomkvist will not only be very well paid - but Vanger will hand over evidence that Wennerström is a swindler and a crook.

Unknown to Blomkvist, he has already been thoroughly checked out. Frode had approached Milton Security to run a little background check on Blomkvist. The check had been carried out by Lisbeth Salander, who - despite having a very difficult background - is probably the company's most thorough investigator. It would be easy - and foolish - to dismiss her based on first impressions : she didn't finish high school and has no formal qualifications, has several piercings and tattoos and is barely five feet tall. However, she is highly intelligent, resourceful and knows exactly how to handle herself in a dangerous situation. She also comes across as being rather cold and detached and - when Blomkvist finally meets her - he suspects she may actually have Asperger's syndrome. Fortunately for Blomkvist, when they meet they're working together as allies....

"The Girl with the Dragon Tattoo" is comfortably the best thriller I've read in a long time. It can, at times, make for uncomfortable reading - Salander's had a very tough life, and she continues to be badly treated by her current guardian Nils Bjurman. (What happens between the pair isn't exactly pleasant). I did find a little odd was that Blomkvist was really the book's lead character - I'd have thought, given the book's name, it would have been Salander who played that role. Hopefully, I'll learn a bit more about her in the next instalment. A cracking read, totally recommended.
---
Journal Entry
2
by
cluricaune
at
Armagh, Co. Armagh United Kingdom on Sunday, April 30, 2023
To the finder:

Welcome to BookCrossing!

Please make a journal entry to let me know that this book has been caught so I know that it has found a good home with you. I hope you like the book, but I'd be grateful if you'd let me know what you thought of it by making another journal entry when you've finished it.

Then, whenever you are ready to send it on its way, make a journal entry if you are giving or sending this book to a known person, or a release note if you are leaving it "in the wild" again for anyone to catch. Then watch its journey.

If you've decided to sign up, you'll be alerted by e-mail each time someone makes another journal entry. And it's confidential (you are known only by your screen name and no one is ever given your e-mail address), free, and spamless !

Some faqs : http://www.bookcrossing.com/faqs

Thanks for stopping by, have fun!
---
Journal Entry
3
by
cluricaune
at
Phone Box in Hillsborough, Co. Down United Kingdom on Tuesday, June 6, 2023
Released 3 mos ago (6/6/2023 UTC) at Phone Box in Hillsborough, Co. Down United Kingdom
WILD RELEASE NOTES:
Red phone box on Main Street, next to the Laundry Room.
---