Angel Falls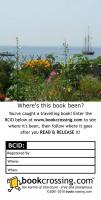 Registered by

GoryDetails

of
Nashua
,
New Hampshire
USA on 3/31/2023

This Book is Currently in the Wild!
1 journaler for this copy...

Journal Entry
1
by

GoryDetails

from
Nashua
,
New Hampshire
USA on Friday, March 31, 2023
I got this softcover from independent bookstore Balin Books (formerly Toadstool Books) in Nashua, for another release copy of this book - written by my sister and brother-in-law! (You can learn more about the book on the official web site,
AngelFalls.org
.)
The story is set in a coastal-Massachusetts town inspired largely by Gloucester (and its spooky neighbor Dogtown), and unfolds from the viewpoints of almost-15-year-old Jessie - who's come to town from her New York City home along with her father, to take care of the affairs of her father's late great-aunt, and who's worried that her parents' marriage is failing - and 16-year-old Jared, a local boy who's been working heavy hours while also attending school in a desperate attempt to support himself and his severely depressed father, an artist who hasn't completed a saleable work in some time.
The two meet by accident in Angel Falls, a heavily-forested area that's got a long history of tragedy, and is strongly rumored to be cursed, haunted, or both. Jared has roamed its twisty trails all his life and feels comfortable there, and isn't best pleased to find his sanctuary invaded by a townie, but soon the teens form a friendship, and meet up often to escape from their respective family difficulties by roaming the weird forest with its oddly-inscribed granite boulders, old burial grounds, and general atmosphere of something ancient and yet watchful.
And then one day they see a deer with a badly-injured leg that hasn't healed well, and in their pity for the struggling animal they wish it better. When they see a healthy deer with the same scar on its coat as the first one, they have to wonder if it's possible that wishes can make things real... and, if so, can they fix their broken parents?
There's more going on here, from the delightful atmosphere of a coastal community - lively and fascinating in good weather, chilling and isolating in bad - to the various characters whose paths cross with our heroes. Jared's remedial-summer-school teacher Mr. Delaney, for one; he's been helpful in teaching Jared techniques for coping with his reading disabilities, but he can be very harsh in class, not hesitating to shame students who won't or can't answer his questions. And Jessie's mother, an actress who clearly loves her daughter, but who is oddly reluctant to come to the coastal town even on a short visit.
The gist of the legends about Angel Falls: in the 1600s, during the wars with the local tribes, the men of the community had gone to fight, leaving their women and children inside the fortified town - only to return to find all of them gone without a trace. When rumors spread that some of the missing had returned months or years later, the survivors split into those who believed it and those who did not, with the believers moving deeper into the forests of Angel Falls - and, eventually, dwindling away, leaving only the overgrown ruins and a scattering of tombstones. But the place is rumored to be haunted, and people still disappear there from time to time. To Jared and Jessie the place seems ancient and far-removed from their present-day lives, but then they begin to wonder...
---

Journal Entry
2
by

GoryDetails

at
bench (see release notes for details) in Gloucester, Massachusetts USA on Friday, March 31, 2023
Released 2 mos ago (3/31/2023 UTC) at bench (see release notes for details) in Gloucester, Massachusetts USA
WILD RELEASE NOTES:

I plan to leave this book on a bench or window ledge outside the Causeway restaurant, one of the many inspirations for scenes in the book. Hope the finder enjoys it!
[See other recent releases in MA
here
.]
** Released for the
2023 4 Elements
challenge. **
** Released for the
2023 Oh, the Places We Can Go
challenge. **
** Released for the
2023 52 Towns in 52 Weeks
challenge. **
---