Severed: A History of Heads Lost and Found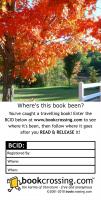 Registered by

GoryDetails

of
Nashua
,
New Hampshire
USA on 1/17/2023
2 journalers for this copy...

Journal Entry
1
by

GoryDetails

from
Nashua
,
New Hampshire
USA on Tuesday, January 17, 2023
I got this hardcover from an online seller. As per the title, it's about human heads - and the ways they've been detached, collected, studied, and/or abused throughout history. Given my taste for some of the grislier aspects of history I've read quite a bit about beheadings and such, but I found this book entertaining and sometimes surprising - and it'd be a good starting point for those interested in the subject.
The prologue features one of the best-known of the historical English heads - that of Oliver Cromwell, which, in something of a twist regarding the heads of deposed political leaders, was NOT chopped off while he was alive, but was retrieved after his death when Charles II regained the throne. Oliver was tried post-mortem and his head displayed on a pole outside of Westminster Hall - for over 20 years. The head got into the hands of several individuals over the ensuing centuries, finally getting a burial in *1960*. All this is presented as a look at the way the head can be considered an icon, a trophy, a warning, and more...
The author delves into the history - and, sadly, the business - of shrunken heads, which originated as war trophies and became souvenirs. The section on "Deposed Heads" covers modern-day executions - both of political leaders and of hostages - as well as the historical executions, and delves into the ways in which the internet can promulgate images of the most horrendous type.
"Gory details"-oriented though I am, I prefer my details with a few centuries on them, so the section about the practice of displaying the heads of executed traitors at various spots in London did intrigue me. The heads were treated so that they'd last and - presumably this was the hope - be more of a deterrent, and (I was surprised and oddly pleased to learn this) there was a Keeper of the Heads who lived in the gatehouse of London Bridge and was in charge of managing the current display of heads (and sometimes other body parts). This position was in effect for over three hundred years; talk about your local tradition...
Other chapters deal with severed heads in art - sometimes taken from actual victims or their death-masks, sometimes based on living models (who may have been a bit startled to see themselves depicted as so very, very dead), and sometimes on the artists themselves; on skulls in scientific collections; in heads or skulls as venerated relics; as material for anatomical studies; and, perhaps the grisliest of all, on living heads - from speculation as to whether one might retain consciousness after being decapitated to questions of possible head-transplants (or, more properly, body transplants, as the brain is the seat of self).
[Side note: modern technology gives us the capability, should we choose it, to have our own heads or even our skulls scanned and 3D printed; I admit I think it would be rather amusing to have my own skull on my bookshelf...]
I recommend these other books about heads:
Severance: Stories
by Robert Olen Butler, a collection of what is effectively flash-fiction, on the theme of severed heads from history and art.
Guillotine: Its Legend and Lore
, one of the sources mentioned in
Severed
---

Journal Entry
2
by

GoryDetails

at
Nashua, New Hampshire USA on Saturday, February 4, 2023
---
Journal Entry
3
by

haahaahaa98

at
Watertown, Massachusetts USA on Tuesday, February 7, 2023
Ploppity Plop Plop - what a fascinating topic!
---