Hurray! The Bookplate Creator is back!
We've been promising it for a long time, and now it's finally here... We have a brand new Bookplate creator. Read all about it in this Announcement forum post!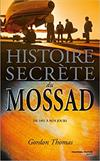 Histoire secrète du Mossad
Registered by
asia_be_es
of
Uccle / Ukkel
,
Bruxelles / Brussel
Belgium on 9/17/2022

This Book is Currently in the Wild!
1 journaler for this copy...

Chargé de veiller à la sécurité de l'État d'Israël, le Mossad (Institut des renseignements et des opérations spéciales) a été à l'origine des faits d'espionnage, d'antiterrorisme et d'assassinats parmi les plus saisissants du XX siècle.
Pour écrire ce livre unique sur le sujet, Gordon Thomas a interrogé de nombreux agents du Mossad, informateurs, espions et anciens dirigeants. L'accès à des documents confidentiels et à des sources secrètes lui permettent de faire ici des révélations inédites sur les services secrets israéliens.
C'est avec le brio d'un auteur de romans policiers qu'il décrit les activités de renseignement, les opérations clandestines et la lutte antiterroriste du Mossad: la capture d'Adolf Eichmann, l'assassinat systématique des membres de Septembre noir, responsables de la mort des athlètes israéliens aux jeux olympiques de Munich en 1972, mais aussi le vol de vedettes lance-missiles commandées à la France et mises sous embargo par le général de Gaulle, l'infiltration des services secrets arabes, les liens entre la CIA, le Mossad et le Vatican...
Les derniers chapitres nous montrent comment le Mossad avait planifié l'assassinat de Saddam Hussein, ce qu'il savait des sociétés américaines basées en Chine et de leurs liens avec Oussama Ben Laden. On y découvre les révélations du Mossad sur la mort de la princesse Diana et sur la disparition des millions transférés de la banque du Vatican à Solidarnosc, le rôle caché des services secrets israéliens dans la guerre en Irak et la traque de Saddam Hussein et Oussama Ben Laden.
« Il raconte les choses telles qu'elles ont été et comme elles le sont encore. » Meir Amit, ancien Directeur Général du Mossad [babelio.com]
---

Journal Entry
2
by
asia_be_es
at
Uccle / Ukkel, Bruxelles / Brussel Belgium on Saturday, September 17, 2022

Je l'ai trouvé dans une boîte à livres au coin du Dieweg et l'Avenue Wolvendael à Uccle. Je l'ai pris pour diffuser l'idée de bookcrossing.
---

Journal Entry
3
by
asia_be_es
at
Boîte à livres - Wolvendael/Dieweg in Uccle / Ukkel, Bruxelles / Brussel Belgium on Thursday, September 29, 2022
Released 1 mo ago (9/29/2022 UTC) at Boîte à livres - Wolvendael/Dieweg in Uccle / Ukkel, Bruxelles / Brussel Belgium
WILD RELEASE NOTES:
---