The Land of Laughs
3 journalers for this copy...
This to me is an unusual fantasy novel - I do tend to read more of the fantasy novels set in some vaguely celtic magical land with dragons (all the while with that little voice in the back of my mind saying "where's the plague? what's with this cleanliness and happy serfs?" but I can be a cynic at times).

This novel is a refreshing change from that, as it is set in America, modern day. This also meant that I spent the first bit thinking "so, where are the dragons? A fantasy novel with a road trip??". But I really think that's my problem, so forgive me!

The basic outline of the story is a young english teacher (Thomas Abbey) is obsessed with a writer of childrens' books, Marshall France, having read them as a child. And he meets a young woman (Saxony Gardner) who is equalled obsessed with France's novels. They fall in love, and decide to ditch their current lives to go and write France's biography. They drive to France's hometown (Galen, Missouri). And then things start going weird.

The book's strength is is portrayal of the relationship between Thomas and Saxony. The book is written from Thomas' point of view, and I think Carroll has captured the fact that it isn't a perfect relationship very well (they quarrel, Thomas is attracted to France's daughter Anna, etc), and the whole development of the relationship from a shared obsession with a writer to a well-rounded relationship.

I think one of the trickiest things in writing about a writer is the fact that you have to write sections in another's style. (This is probably easy if you've made up the writer, as opposed to trying to put words in Shakespeare's mouth, for example.) Doubly hard when your fictional writer is supposed to be incredibly influential. I think Carroll pulls it off remarkably well - I want to read France's novels myself now!

France's novels aren't your standard childrens' books, from the snippets we get. There are no quidditch matches, or famous five style dialogue. They read like modern fairy tales, with characters called "The Queen of Oil", "Green Dog" and "Krang" who is a mad kite. Yes, a "mad kite that has decided that the wind is its enemy. It begs to go up every day so that it can continue its war on its constant battlefield, the sky".

Damn, I wish there was more of France's stories in this book, or that France really did exist.

The final brilliance of the book is that once Thomas and Saxony get to Galen, things are not as they seem. I shan't give anything away, but there was a wonderful spookiness to everything and palpable tension in the air and I could barely put the book down until I finished it.

And the ending is perfect. So often modern novelists write fabulous books, but fail to be able to finish them - they write themselves into corners and then let themselves down trying to get out of the corner. This book doesn't do that. The ending actually makes sense, and finishes off the book wonderfully.

[NOTE: this was a review I wrote for the book on epinions.com, many years ago. I still agree with it!]
---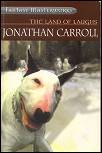 "Things were so nice now. I looked in all the dark corners of my life and wondered which one of them had something up its sleeve ... No answer."
This is one of the best lines ever written in a fantasy novel. Reading this I knew that Johnathan Carroll was destined to be one of my favourite authors of all time.
And if you haven't read The Land of Laughs yet you shouldn't be reading this or any other review, or for that matter the back cover of the book, or the comments on the front inside cover. It's enough to know that Stephen King, Neil Gaiman, Ruth Rendell, TQD and I all gave this book the highest possible praise.
This book doesn't really need any more said about it but if you must know more
Trav28
has written a good review.
---
I got it from my wife, who liked it alot. I did too - it reminds me of Cthulhu Mythos books but with some polished genre crossing.
My only complaint is that it wasn't longer really!

---
And back to me! Glad you guys liked it!
---