Angelmaker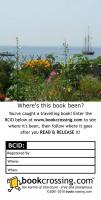 Registered by

GoryDetails

of
Nashua
,
New Hampshire
USA on 8/11/2022
2 journalers for this copy...

Journal Entry
1
by

GoryDetails

from
Nashua
,
New Hampshire
USA on Thursday, August 11, 2022
I got this ex-library hardcover from Better World Books. (I enjoyed his
Seven Demons
, published under the pseudonym "Aidan Truhen," and wanted to try some of his other works.)
And it's very droll indeed! A gone-to-seed middle-aged clockwork repairman named Joe and a near-90-year-old former secret-agent cope with a plot involving a near-miraculous device that might just end the world as we know it. (The descriptions of the various clockwork pieces that the protagonist works on are also enthralling, from some really lovely clocks and whatnot to an over-the-top pornographic scene.)
I'm enjoying it very much, not least Edie (the 89-year-old):
"The trouble with shooting people, Edie Banister now remembers, is that it's so hard to do just one. Having shot her would-be assassin, and now being, as it were, on the lam, she has to return to her former quite abstemious attitude and not just shoot anyone who impedes her passage. She has already had to speak to herself quite firmly about nearly shooting two irritating pedestrians and a slow driver. She is positively proud not to have ventilated Mr. Hanley, the street-sweeper, who popped up behind her as she was leaving and wished her good morning, and she is really astonished at her own good behaviour in not shooting Mrs. Crabbe, who was merely walking by on the other side of the street, but whom she has never liked."
Edie's flashbacks illustrate her stellar and often dangerous career as a secret agent, most of which she spent in disguise as a man, and includes her meeting with a horrifying east-Asian warlord with a penchant for mind-bendingly awful tortures. (This turns out to be all too significant in the modern-day plotline.) She also has a love affair with a brilliant, eccentric scientist, Frankie, who turns out to be Joe's grandmother (nearly all the characters have connections upon connections), and it's that relationship that triggers the events of the story. Edie gives Joe an item crafted by Frankie, one that causes floods of unbelievably perfect mechanical bees to swarm around the world - but what are they up to, and is it better to leave them to it or to try to find a way to stop them?
That question gets forced by the Big Bad(s), a mysterious organization that wants to use the bees for their own ends. But that requires finding a particular gadget, the location of which they think Joe knows - only he doesn't, leading to a horrifying sequence of torments for him.
Along the way we meet other allies and/or relatives, including a good friend of Joe's family who's also a top-notch lawyer, and his sister, who has quite a passion for the unassuming and largely oblivious Joe...
The book's loaded with snarky banter, fabulous clock-punk gadgets, increasingly unbelievable events, and - during the climactic conclusion - a deliciously over-the-top summoning of allies for a last-ditch attack on the Big Bad(s). The antique train, the "Lovelace," has a truly awesome part to play, and overall I found it quite delightful!
[There's a
TV Tropes page
on the novel, with some interesting tidbits.]
---

Journal Entry
2
by

GoryDetails

at
Little Free Library @ Rochester Public Library in Rochester, New Hampshire USA on Sunday, August 28, 2022
Released 3 mos ago (8/28/2022 UTC) at Little Free Library @ Rochester Public Library in Rochester, New Hampshire USA
WILD RELEASE NOTES:

I left this book in the Little Free Library outside the public library, after admiring the giant yeti-silhouette lurking near the back entrance. Hope someone enjoys the book!
[See other recent releases in NH
here
.]
*** Released for the
2022 One Word Title
challenge. ***
** Released for the
2022 Science Fiction
challenge. **
---
Picked this book up in the Little Free Library at the Rochester Public Library on 8/29/22. Have not read yet, but will do so and pass on at a later date!
---