A MESSAGE FROM BRUCE: Data Breach
Please read Bruce's important message here (or go to the Announcements forum by your normal route) about stolen BookCrossing data from 2013 and before.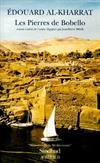 Les Pierres de Bobello
Registered by

souram
of
Genève
,
Genève
Switzerland on 7/4/2022
2 journalers for this copy...

Le bookcrossing fait voyager des livres.
---

Chantiers, amours, vie sur les bords du Nil... Edouard Al-Kharrat se rappelle bien du monde, évoque des proches disparus etc. Toute une vie paysanne renaît au fil des pages. Bien aimé.
---

Je l'ajoute à la BBV des EdM 2022.
---

Il ne t'est jamais donné de rêve sans le pouvoir de le réaliser. (Richard Bach)


BBV Ecrivains du Monde 2022. En route pour Strasbourg.




---

Déjà arrivé à Strasbourg. Rien que la couverture me donne envie de m'y plonger très vite ! Merci, Souram.
---

On entre dans ce livre comme on entre en poésie, sans cherche de fil conducteur, sans chercher de logique, sans se crisper devant l'alternance des temps - pour ma ma part le passage intempestif du présent au passé simple et au passé composé m'agace toujours profondément, mais peut-être est-ce lié à la traduction.
Bref, indépendamment de ces temps verbaux inappropriés, j'ai trouvé des accents rimbaldiens à ce kaléidoscope très sensuel de parfums, d'arbres, de fruits, de femmes, de tranches de vie, de morceaux d'histoire, de religions diverses, de désert, de souvenirs d'enfance et d'enivrements adolescents.
---