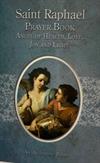 Saint Raphael Prayer Book
Registered by

Cordelia-anne

of
Atlanta
,
Georgia
USA on 6/22/2022

This Book is Currently in the Wild!
1 journaler for this copy...

Journal Entry
1
by

Cordelia-anne

from
Atlanta
,
Georgia
USA on Wednesday, June 22, 2022
After writing in my personal journal today about an awakening, I found this little booklet. I've had it for a while. Apparently now out-of-print, it was published by Aquinas Press in 2013. St. Raphael is the Archangel of healing and happy meeting. His story is in the Apocrypha. This book is so tiny that I will have to use a magnifying glass to go through it. I hope it will have a happy meeting with its next reader soon. Here's the prayer most associated with the Archangel Raphael at this time and place in American history:

Prayer to Saint Raphael
O Raphael, lead us toward those we are waiting for,
those who are waiting for us: Raphael, Angel of happy
meeting, lead us by the hand toward those we are
looking for. May all our movements be guided by your
Light and transfigured with your joy.
Angel, guide of Tobias, lay the request we now
address to you at the feet of Him on whose unveiled
Face you are privileged to gaze. Lonely and tired,
crushed by the separations and the sorrows of life, we feel
the need of calling you and of pleading for the
protection of your wings, so that we may not be as
strangers in the provinces of joy, all ignorant of the
concerns of our country. Remember the weak, you
who are strong, you whose home lies beyond the
region of thunder, in a land that is always peaceful,
Always serene and bright with
Resplendent glory of God.

---

Journal Entry
2
by

Cordelia-anne

at
Atlanta, Georgia USA on Friday, June 24, 2022

Georgia writer Flannery O'Connor admired the St. Raphael the Archangel prayer of happy meeting and healing. That's how I first became familiar with it. Miss O'Conner found this prayer by Ernest Hello in Dorothy Day's "Catholic Worker" and quoted it in a letter dated 14 July 1964, less than a month before her death. The letter is included in "The Habit of Being," edited by Sally Fitzgerald, 1979.
Reading this booklet compiled by Bart Tesoriero, I learned of the prayer's most recent origins in America. Browsing the library of her convent in Monroe, Michigan one day in the 1920s, Sister Mary Jerome, IHM, discovered an essay on the "Holy Angels" by French Roman Catholic Ernest Hello. Hello, 1828-1885, was a writer and journalist, best known for his work in literary criticism, philosophy and theology. Impressed by the "Happy Meetings" prayer, Sister Mary Jerome was inspired to spread devotion to St. Raphael. Before her death in 1952, she had received thousands of proofs of the power of the archangel's intercession. Serena Ward, who for many years produced the "Whisperings" column in a popular St. Anthony Messenger Catholic magazine, also brought devotion to the Archangel Raphael into the consciousness of 20th Century Catholics.
Devotion to St. Raphael is much older in Europe where many churches and shrines were erected in his honor. He is the patron of many religious communities. It is believed that devotion to the Archangel was first brought to America by Spanish Franciscan missionaries. Also, in the 1880s a group of German Catholic immigrants to the United States, the St. Raphael Society, chose him as their patron.
I am going to enclose this book in another that relates to St. Raphael the Archangel. May it have a good journey.
---

Journal Entry
3
by

Cordelia-anne

at
Pinetree Drive Little Free Library in Decatur, Georgia USA on Friday, June 24, 2022
Released 1 mo ago (6/25/2022 UTC) at Pinetree Drive Little Free Library in Decatur, Georgia USA
WILD RELEASE NOTES:

Hello! This a gift from BookCrossing, a random community of book lovers. If you'd like to join the BookCrossing story of this book, please make a journal entry at our site with the BCID (bookcrossing ID) on the bookplate. BookCrossing is free to join and confidential. You don't have to join to comment.
---