The True Deceiver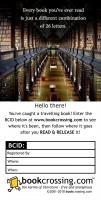 Registered by

rainbow3

of
Edinburgh
,
Scotland
United Kingdom on 10/14/2022
2 journalers for this copy...

Deception -the lies we tell ourselves and the lies we tell others- is the subject of The True Deceiver, Tove Jansson's most unnerving and unpredictable novel. Here Jansson takes a darker look at the subjects that animate the best of her work: solitude and community, art and life, love and hate.

All winter long the snow has been falling on the village. The sun rises late in the day, and once it does, there is little to do but trade tales. This year the talk of the town is all about Katri Kling and Anna Armelin. Katri is a yellow-eyed outcast who lives in a room with her simple teenaged brother and a dog she never bothered to name. She has no use for the daily dishonesties that smooth social life, but she can see to the rational core of any problem.

Anna, an elderly children's book illustrator, is a respected and easygoing, if aloof, member of society. She lives alone in her family mansion, venturing out come springtime to paint exquisitely detailed paintings of the forest floor (to which her young fans insist she add adorable pink bunnies).

When Anna needs someone to help around the house, Katri eagerly volunteers. It's not long before she and her brother have moved into the mansion and taken charge of just about every aspect of Anna's life and livelihood. As the season becomes increasingly oppressive, the two women find themselves engaged in a confrontation that will gradually strip away their cherished illusions. fantasticfiction.com

THE TRUE DECEIVER by TOVE JANSSON (1982) (TRANS: Thomas Teal 2009) | ISBN: 0954899571 / 9780954899578 (UK Ed PB) | Publisher: A Sort of Book

"In the deep winter snows of a Swedish hamlet, a strange young woman fakes a break-in at the house of an elderly artist in order to persuade her that she needs companionship. But what does she hope to gain by doing this? And who ultimately is deceiving whom? In this portrayal of two women grappling with truth and lies, nothing can be taken for granted. By the time the snow thaws, both their lives will have changed irrevocably." --Book Jacket.
---

One of those books I think I "ought" to read. Then when, push came to shove, I found I was not anywhere near the mood for "unnerving". I'll check to see if this is on any UK BookCrosser's wishlist, otherwise a wild release on the 23rd October at a BookCrossers gathering, is proposed.

Hmm, wished for a by a [proto] BookCrosser who signed up in 2016, then never registered any books. So... they don't have any books to offer as a swap, if I were to offer this and, they were still using the same email address and, this didn't land in their spam box, and if they still wanted this. Hmm, too, many if's inherent in all that.

... EDITED...Mon 28 Nov 2022...
Released directly into the hands of another lovely BookCrosser, kinedi, at a wonderful Old Gang, of Edinburgh BookCrossers Meet-Up, Sun 27 Nov 2022. Here we are, with the closing of the Filmhouse Cafe Bar back at Biblos where we used to meet-up years ago. Hugs rainbow3
---

Came recommended to me by two bookcrossers so I couldn't really say no, could I ?
---