Quiet in Her Bones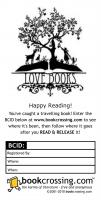 Registered by
rainbow3

of
Edinburgh
,
Scotland
United Kingdom on 7/9/2022
3 journalers for this copy...

My mother vanished ten years ago.
So did a quarter of a million dollars in cash.
Now, she's back.
Her bones clothed in scarlet silk.

When socialite Nina Rai disappeared without a trace, everyone wrote it off as another trophy wife tired of her wealthy husband. But now her bones have turned up in the shadowed green of the forest that surrounds her elite neighborhood, a haven of privilege and secrets that's housed the same influential families for decades.

The rich live here, along with those whose job it is to make their lives easier. And somebody knows what happened to Nina one rainy night ten years ago. Her son Aarav heard a chilling scream that night, and he's determined to uncover the ugly truth that lives beneath the moneyed elegance . . . but no one is ready for the murderous secrets about to crawl out of the dark.

Even the dead aren't allowed to break the rules in this cul-de-sac.
From fantasticfiction.com

QUIET IN HER BONES by NALINI SINGH (2021) | ISBN: 1-86971-445-8 / 978-1-86971-445-1 (New Zealand Ed) | Publisher: Hachette Aotearoa New Zealand
---

Released 8 mos ago (7/9/2022 UTC) at Auckland, Auckland Province New Zealand
CONTROLLED RELEASE NOTES:
Travelling from within New Zealand to BookCrosser Keeta1, this book is gifted as part of a Book & a BookMark Sweepstake. I'm thrilled to be taking part in this BookCrossing adventure. Many thanks to bookfrogster for organising it.

This lovely bookplate [see above right], three bookmarks and a card will be travelling from Scotland to join this book.
---------------------

● CONTROLLED RELEASE:
Please do, while on your travels, BookCrossing book check in from time to time. A wee journal note will do the trick. Cheers rainbow3.
---


Thank you so much rainbow3 for the envelope of goodies, which arrived today, to join the book which has been here for a wee while. I thought I'd wait until they were all here, before I did the journal.
The bookmarks are all well made and very cute, thank you :)
Looking forward to reading a new author as well.
---

The first book by this author that I've read and I really enjoyed it. Set in a very well described New Zealand bush setting, it was atmospheric. A rather large cast of diverse characters made it a little confusing at times, but also added twists to the story and made it a little more difficult to figure out the final "whodunnit".
---

Journal Entry
5
by

keeta1

at
By Post, By Mail/Post/Courier -- Controlled Releases on Tuesday, January 24, 2023
Released 2 mos ago (1/24/2023 UTC) at By Post, By Mail/Post/Courier -- Controlled Releases
CONTROLLED RELEASE NOTES:
A hitch-hiker going to Edwardstreet :)
---
Journal Entry
6
by

Edwardstreet

at
Lower Hutt, Wellington Province New Zealand on Sunday, January 29, 2023
Was unaware of this book set in New Zealand which arrived as a hitchhiker, always interested in books that are set in my homeland to see how it is portrayed.
---