A MESSAGE FROM BRUCE: Data Breach
Please read Bruce's important message here (or go to the Announcements forum by your normal route) about stolen BookCrossing data from 2013 and before.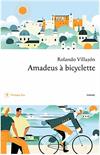 Amadeus à bicyclette
1 journaler for this copy...
éditeur Philippe Rey

4ème de couverture :
Un jeune Mexicain, Vian Maurer, débarque à Salzbourg pour participer à une production de Don Giovanni comme simple figurant. Triste perspective pour celui dont le rêve de devenir artiste lyrique fut très tôt contrarié par un père despotique et des professeurs incapables.

Alors, durant ses heures d'oisiveté, Vian parcourt la ville à vélo aux côtés de la fantasque et secrète Julia, et de son inquiétant colocataire Jacques. Il découvre une ville encore hantée par le souvenir de Mozart, croise la route d'anonymes qui le bouleversent : un SDF jardinier, Herr Wolfgang, et un vieux libraire, baptisé Perec, qui l'initie à la littérature.

Tandis que la date de la représentation approche et que des psychodrames secouent la troupe, Vian apprend l'arrivée à Salzbourg de son père, bien décidé à le ramener au Mexique pour le mettre enfin au travail. Vian pourra-t-il se résigner à l'avenir morne et raisonnable auquel son père le destine ?

Ce roman foisonnant mené tambour battant raconte avec autant d'humour que d'émotion le parcours d'un jeune homme poétique et idéaliste. Amadeus à bicyclette, par son hommage à la spontanéité créatrice et à la droiture de Mozart, est surtout un appel à poursuivre ses rêves.

---