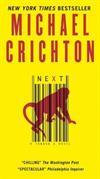 Next
Registered by

mcsar

of
Richmond
,
British Columbia
Canada on 5/13/2022
2 journalers for this copy...

Journal Entry
1
by

mcsar

from
Richmond
,
British Columbia
Canada on Friday, May 13, 2022
Welcome to our genetic world.
Fast, furious, and out of control.

This is not the world of the future --- it's the world right now.

Is a loved one missing some body parts? Are blondes becoming extinct? Is everyone at your dinner table of the same species? Humans and chimpanzees differ in only 400 genes; is that why an adult human being resembles a chimp fetus? And should that worry us? There's a new genetic cure for drug addiction --- is it worse than the disease?

We live in a time of momentous scientific leaps; a time when it's possible to sell our eggs and sperm online for thousands of dollars; test our spouses for genetic maladies and even frame someone for a genetic crime.

We live in a time when one fifth of all our genes are owned by someone else, and an unsuspecting person and his family can be pursued cross-country because they happen to have certain valuable genes within their chromosomes ...

Devilishly clever, Next blends fact and fiction into a breathless tale of a new world where nothing is what it seems, and a set of new possibilities can open at every turn. Next challenges our sense of reality and notions of morality. Balancing the comic and bizarre with the genuinely frightening and disturbing, Next shatters our assumptions, and reveals shocking new choices where we least expect.

The future is closer than you think. Get used to it.
---

The novel might have been written in 2006, but issues arising from genetic engineering and medicine are still very relevant today, probably more so. Compared to other books of Crichton, the plot of this one is weaker. The attempt to cover many issues created a bit too many subplots in the novel, making the book less of a page turner than his other books. I still enjoyed the book and it definitely gave me a lot to think about. I am particularly persuaded by Crichton's argument at the end of the book against patenting of genes.
---

Congratulations on winning the Sci-Fi Sweepstakes. And sorry for taking so long to send. I hope you enjoy the book.
---

This is a later Michael Crichton book that I didn't read before. I really enjoy his books so am happy to have this one join the TBR pile.
---