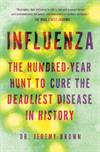 Influenza
3 journalers for this copy...
"While influenza is now often thought of as a common but mild disease, it still kills more than thirty thousand people in the United States each year. Dr. Jeremy Brown, a veteran ER doctor and director of the Office of Emergency Care Research at the National Institutes of Health, talks with leading epidemiologists, policy makers, and the researcher who first sequenced the genetic building blocks of the original 1918 virus to offer both a comprehensive history and a road map to protect us from the next outbreak.

Dr. Brown explores the terrifying and complex history of the flu virus and looks at the controversy over vaccinations and the federal government's role in preparing for pandemic outbreaks. Though a hundred years of advancement in medical research and technology have passed since the 1918 disaster, Dr. Brown warns that many of the most vital questions about the flu virus continue to confound even the leading experts."
---
---

Finally ready to start another round of the Biographies of Things book box, which means I have to realize that I never catalogued the ones that were in the box when it returned to me. This one is good for another round.
---

Journal Entry
4
by
6of8

at
-- Bookbox, -- By post or by hand/ in person -- USA on Wednesday, January 25, 2023
Released 1 mo ago (1/26/2023 UTC) at -- Bookbox, -- By post or by hand/ in person -- USA
CONTROLLED RELEASE NOTES:
This book is now part of the Biographies of Things book box and is off to tour the country. Hopefully along the way it finds an interested reader and a new home.

Any future reader or recipient of this book is encouraged to leave a journal entry here on the BookCrossing site to let prior readers know the fate of the book. You can make an anonymous entry without joining the BookCrossing movement, but if you are interested in joining, it is a free and spam-free community where your contact information is not shared with others. Best of all, members receive private messages via e-mail from books like this one when those books are journaled, allowing for long-term relationships between books and readers.

---

Journal Entry
5
by

GoryDetails

at
Nashua, New Hampshire USA on Monday, January 30, 2023
I'm claiming this one from the latest round of the
Biographies of Things bookbox
. (Influenza almost seems tame after COVID, but it's - pardon the expression - still nothing to be sneezed at!)
---