Sleep Demons: An Insomniac's Memoir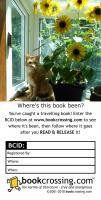 Registered by

GoryDetails

of
Nashua
,
New Hampshire
USA on 1/24/2022

This Book is Currently in the Wild!
1 journaler for this copy...

Journal Entry
1
by

GoryDetails

from
Nashua
,
New Hampshire
USA on Monday, January 24, 2022
I stumbled across my
first copy
of this book quite by accident, but loved it so much that I've picked up additional release copies where I can find them. Got this fair-condition hardcover from Better World Books.
This book was a total surprise to me! I'd expected a simple discussion of insomnia, though unsure whether there would be more emphasis on science or on the "memoir" aspect, but this turned out to be a beautifully-woven combination of both; the author recounts his childhood, adolescence, coming out, and long-term relationships, always with his own insomnia as a connecting thread, and as he steps from one memory to another he'll insert information about the history and science of sleep-studies as they pertain to the particular sleep disorder he's focusing on. One of the early sleep researchers used his own son for some of the experiments; interviewing the son, now an adult, author Hayes sees parallels with his own relationship with his father. Discussing his own childhood sleepwalking experiences, he segues into the study of same - including some court cases in which people were acquitted of murder because it was thought they had done it in their sleep...
While he states that insomnia - the normal kind, anyway - will not kill you, he turns up a variety that actually does kill; it's rare, but sounds extremely nasty. He mentions the ancient Greek god of sleep, Hypnos, brother of Death and born of Night. [At this point I wondered where Neil Gaiman's "Sandman" Morpheus came in; seems that Morpheus, the dream-bringer, was one of the many sons of Hypnos, which would make Death his uncle instead of (as in Gaiman's mythology) his sister. Close enough, anyway!]
This is another of those books where I've tagged so many passages as quote-worthy that I'd be typing all night to get them in, so I'm going to have to be selective. This bit, from a "what are yawns for" segment early on, appealed to me:
"Regardless, on some nights, a good long yawn is as close as I come to a good night's sleep, so I savor each of its four to seven seconds. I picture a yawn triggering the brain to fire off a round of sleep-inducing pellets into the bloodstream; they find their targets in lolling limbs and fluttering eyelids. In the heart of a yawn is a moment of suspension - not unlike the pause immediately before orgasm - when it feels as if the yawn itself is swallowing you, an inner-ear roar rises, and all of outside sound is muffled. It's a moment you'd like to go on and on, but trying to freeze a yawn is like trying to seek haven in a hiccup."
Later on he refers to Russian scientist Marie de Manaceine, one of the first female physicians in Russia, wrote a book about sleep and its pathologies in 1897, and Hayes says she "had a flair for dramatic pronouncements. 'Ennui,' she wrote, 'must induce sleep,' a line that I've become fond of reciting at bedtime. Purely by the sound of her writing voice - astringent yet sensual - I imagine de Manaceine to be a brilliant elderly oddball; Marie Curie meets Julia Child, with the bemused face of Colette."
He talks about beds and mattresses, and whether the type actually makes any difference to quality of sleep. [Flying in the face of the deluge of advertisements for ever-fancier and smarter beds, he says that studies show the type of mattress really doesn't matter that much. Your mileage may vary.]
Later on I get to experience the glee of spotting a reference to a favorite work in another work: Hayes is talking about sleepwalking, and describes how as a child he'd appear in the kitchen long after having gone to bed, to his parents' discomfiture. He says he imagined himself going on long trips through the neighborhood in his sleep, "in the fictional tradition of Neddy Merrill, the protagonist of my favorite John Cheever story, 'The Swimmer'" - and I thought, "Hey, I liked that story! And it is seriously dream-to-nightmarish..."
Then he gets into a discussion of sleep-talking, or
somniloquy
, a lovely word that I will have to pass along to my nephew, a notorious sleep-talker himself. Is sleep-talking related to sleep-walking? Not as much as one might think. Do sleep-talkers ever speak comprehensibly? Sometimes, though rarely. Is what they say significant, or are they rambling - or dreaming? Unclear; some people seem to recount - sometimes word for word - conversations they've had during the day, while others ramble about impossible things [Lovecraft, anyone?] and still others mutter incomprehensibly [to the vast frustration of the people they've awakened, who had hoped to at least get some dirt out of it!]. Another odd thing: there are records of patients who have aphasia and cannot speak at all while conscious, but who
can
speak in their sleep. What this says about the brain and speech - and sleep - I have no idea, but it's interesting.
Another moment of happy recognition came farther along, when in the sleep-talking chapter Hayes refers to a notorious sleep-talker named Dion [rhymes with "lion" as it's short for Dionysus] McGregor, whose prolonged sleep-talking sessions were recorded by a doctor and then published both as a book and a recording - illustrated by [wait for it...] Edward Gorey!!!!
I had never heard of this book!!! [Alas, it's rarish and pricey, but now I have to get one anyway.] Am not so sure I want to hear the recorded version, even though it's apparently been reissued on CD recently (click
here
for some comments on the recordings); as Hayes describes it, "he sounds as if he were channeling Truman Capote on acid: flirtatious, slushy, disconnected from reality - the voice of self-
un
consciousness. Even his transcribed speeches have this quality." But "as innocuous as Dion's words sound today, I am still haunted by the possibility that a very troubled soul lay at the heart of this flamboyant man who talked in his sleep, whose somniloquy was recorded, published, exploited. Dressed up with Gorey's whimsical drawings, his book looks enchanting. On the written page, his sleeptalking references are often funny, campy, graphic, fantastical. But listening to the recordings, one finds that Dion's somniloquy nearly always ends in the same way: in fury, with a bloodcurdling shriek."
Brrrr...
While most of the book is nostalgic, informative, funny, or all of the above, the bit about McGregor isn't the only chilling passage. One of Hayes' friends, hospitalized in the final stages of AIDS, "stopped talking after several days in the ward, I was told. I remember thinking, I'm not surprised: this shy and gentle kid is ready to die, and he doesn't want to talk about it to anyone - whether doctor, social worker, or friend - anymore. I interpreted his silence as a noble surrender.... It wasn't until he died a few weeks later and an autopsy was performed that doctors finally discovered lesions on Jeff's brain, due to AIDS which had caused his dementia and loss of speech."
Hayes is finally convinced to try and do something about his own insomnia when his partner Steve becomes very ill with AIDS himself; the stress of caregiving makes Hayes' usual sleep difficulties even worse, and his growing use of sleeping pills doesn't help. But when the new protease inhibitors give Steve a respite from the disease, Hayes decides that maybe he can give science a chance as well, and goes to a sleep clinic. Will they be able to help him get a good night's sleep? Hey, I have to leave
something
for the reader to discover!
All told I enjoyed this book very much, from Hayes' researches into the history of sleep studies to his account of his own life. I like the way he writes, and the way he weaves the elements of the book together - it all seems to flow naturally between his researches, memories, and speculations, the way one's work and one's life can be interwoven.
[I enjoyed another book of his,
Five Quarts: A Personal and Natural History of Blood
, also, though it didn't have quite the impact of this one. That was followed up by
The Anatomist: A True Story of Gray's Anatomy
, also worth reading - as is his book about his romance with the late Oliver Sacks, in
Insomniac City
.]
---

Journal Entry
2
by

GoryDetails

at
Little Free Library, Weaver Ave in Newport, Rhode Island USA on Thursday, January 27, 2022
Released 4 mos ago (1/28/2022 UTC) at Little Free Library, Weaver Ave in Newport, Rhode Island USA
WILD RELEASE NOTES:

Guidelines for safely visiting and stocking Little Free Libraries during the COVID-19 pandemic, from the LFL site
here
.
I left this book in this new-to-me Little Free Library on this bright, chilly day; hope someone enjoys it!
[See other recent releases in RI
here
.]
*** Released for the
2022 52 Towns in 52 Weeks
challenge. ***
---