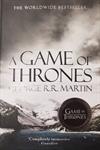 A Game of Thrones [A Song of Ice and Fire 1]
1 journaler for this copy...

Was recommended reading the series A Song of Ice and Fire a long time ago, but still haven't. Therefore I bought A Game of Thrones, the first book in the series, today.

" 'When you play the game of thrones, you win or your die. There's no middle ground'

---

Summers span decared. Winters can last a lifetime. And the struggle for the Iron Throne has begun.

From the fertile south, where heat breeds conspiracy, to the waste and savage eastern lands, all the way to the frozen north, kings and queens, knights and renegades, liars, lords and honest men ... all will play the Game of Thrones."
---