Salem Falls
1 journaler for this copy...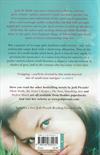 I found this book in the bookcase in AH Daalseweg in Nijmegen on June 24, 2021.
I was a bit concerned when I read the description on the back of the book, but wanted to try reading it anyway. I was caught by the story really fast after starting to read this book. I was pleasantly surprised by the writing style (I had just read a book that was much more difficult to read) which feels naturally flowing. I enjoyed reading this book a lot!
TBReleased back at AH bookcase.
---