Brolliology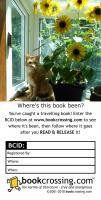 Registered by

GoryDetails

of
Nashua
,
New Hampshire
USA on 12/22/2021
This book is in a Controlled Release!
2 journalers for this copy...

Journal Entry
1
by

GoryDetails

from
Nashua
,
New Hampshire
USA on Wednesday, December 22, 2021
I got this little hardcover from a secondhand seller, intrigued by a "biography of things" about umbrellas!
Later: an entertaining look at umbrellas and parasols, from their earliest appearances in the historical record through various permutations of style and technology. Lots of illustrations, too, from artwork featuring umbrellas to the author's own photos of discarded brollies on the city streets.
The author notes that "there are many facets of brollyness," with the umbrellas-in-literature aspect alone accounting for many - with more popping up as new books come out. The plot-centric umbrella from
Howards End
is mentioned several times, for its ramifications of class and income level as well as a glimpse at the period expectations of umbrella-etiquette in public spaces. Apparently the umbrella wielded by Dickens character Mrs. Gamp led to the use of the term "gamp" for umbrellas, at least in a limited area and time. And of course there's the umbrella carried by the faun Mr. Tumnus in the opening of
The Lion, the Witch and the Wardrobe
.
Among my favorite tidbits - the reference to James Smith & Sons, a still-very-much-open London umbrella shop that's been there since the mid-1800s, and which features period glass windows bearing lists of the products available, including many different types of umbrellas as well as walking sticks, riding crops, swordsticks, and more!
Umbrellas in prose and poetry, umbrellas in art, umbrellas carried into battle, clunky and heavy umbrellas making way for more lightweight and easy-to-use versions - there's a lot here.
I was pleased to find a nod to Cynthia Barnett's
Rain: A Natural and Cultural History
, which has a chapter on "rain-shedding" items including umbrellas. And that's far from the only interesting reference to other works.
Oh, and there's a chapter on the Japanese concept of
tsukumogami
- when useful items have endured for a very long time (it varies per legend, but think a century or so), they may acquire a spirit and become animated beings with their own purposes. When an umbrella - or the iconic paper-covered parasol - achieves such a change, it's called a
kasa-obake
, and there's an illustration of a 19th-century Kabuki actor costumed as one - inscribed with this poem by the actor himself:
My flower umbrella
tattered and worn -
in the guise of a monster!
At the end of the book there's a coda about "brollylessness" - describing the art-installation called "Rain Room," in which carefully tuned sensors allowed visitors to walk through an actual rainstorm while remaining dry; the sensors would turn the water off as the people moved, turning it on again as they moved on. The author describes the sensation of standing in the middle of the falling water yet unable to touch it... an extreme techno-version of the perfect umbrella?
---

Journal Entry
2
by

GoryDetails

at
Nashua, New Hampshire USA on Saturday, February 4, 2023
---
Journal Entry
3
by

haahaahaa98

at
Biographies of Things, A Bookbox -- Controlled Releases on Tuesday, February 7, 2023
Released 1 mo ago (2/7/2023 UTC) at Biographies of Things, A Bookbox -- Controlled Releases
CONTROLLED RELEASE NOTES:
Found in the current Biographies of Things bookbox; returning back into the box.
---