Kinderen van moeder aarde
3 journalers for this copy...
Dit boek gaf in mijn jeugd het keerpunt in mijn leven aan, door dit boek werd ik gestimuleerd om de richting in mijn leven te kiezen. Daar ben ik Thea Beckman nog steeds dankbaar voor.
Gesigneerd exemplaar! Geregistreerd op de dag van haar dood.

---
Journal Entry
2
by
biba89
at
Deventer, to fellow BookCrosser in - Per post of in persoon doorgegeven , Overijssel Netherlands on Tuesday, May 18, 2004
Released on
Tuesday, May 18, 2004
at
to fellow BookCrosser
in Deventer, Overijssel Netherlands.
Dit gesigneerde exemplaar gaat naar boekenwurmpie. Met de wens, dat hij er net zo van zal genieten als ik destijds deed!
---
Dankjewel biba89 ik denk dat ik hem met veel plezier zou lezen.
---
M'n voorspelling was niet helemaal juist..
Ik vond het lastig te begrijpen!
Ach ja, volgende keer beter!
Hij staat nog op reserved.
Als ik Biba89 weer een keer zie geef ik hem terug!
Toch bedankt Biba89!
---
Gelukkig, de Kinderen van Moeder Aarde zijn weer thuisgekomen. Inmiddels heb ik ook een stukgelezen exemplaar van het Helse Paradijs, ze liggen samen klaar om herlezen te worden in Zweden, een soort van Thule voor ons Nederlanders.
---
Ik snap waarom ik er toen zo van onder de indruk was. Van Beckman's natuurbeschrijvingen, over de bergen in de lente, het juichende leven, kreeg ik weer tranen in mijn ogen. Hoe mooi het is als het leven om ons heen niet beknot en ondergeschoffeld wordt, zoals wij dat hier gewoonlijk doen. Het deed me wederom verlangen naar een andere wereld, waar liefde voor het leven net zo voelbaar is als in dit boek.
---
Dit juweel mag naar dutch-flybaby, die er zeker zo van zal genieten als ik.
---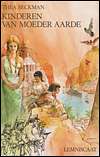 Dit boek kreeg ik te leen van biba89, deel één van de trilogie van Thule. Ik ben erg benieuwd!
---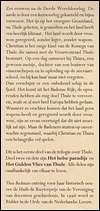 Mooi boek! In het begin zat ik heel erg aan te hikken tegen de 'zachtaardige onderdrukking' waar Rajo het over had (bladzijde 56). Hiermee laten de 'dames van Thule' een deel kennis en kracht onbenut. Gelukkig wordt dit aan het eind van het boek 'hersteld'. Ik ben erg benieuwd hoe het verhaal verder gaat, dus begin ik hierna direct met het tweede deel van de serie.
Bedankt voor het lenen biba89, dit boek neem ik voor je mee naar Castricum :-)
---
Journal Entry
10
by
dutch-flybabe
at
Handdelivered to fellow bookcrosser or friend in N/A, Netherlands -- Controlled Releases on Tuesday, June 26, 2007
Released 11 yrs ago (7/1/2007 UTC) at Handdelivered to fellow bookcrosser or friend in N/A, Netherlands -- Controlled Releases
WILD RELEASE NOTES:
RELEASE NOTES:

Dankjewel Qimp dat je dit boek voor mij naar biba89 wilt koerieren vanaf de bijeenkomst in Bakkum! Biba89 heel hartelijk bedankt voor het lenen!
---
Dit boek is weer thuis, na omzwervingen. Dankjewel!
---