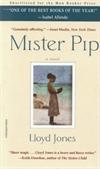 Mister Pip
Registered by
spy-there
of
Zürich
,
Zürich
Switzerland on 5/9/2021

This Book is Currently in the Wild!
1 journaler for this copy...

The story is set in a small fisher village on the island of Bougainville (Papua New Guinea) which has one of the world's largest copper deposits and had once the world's biggest copper mine. However the mining by an Australian owned mining operation caused significant detriment to the immediate and downstream ecology: from the destruction of forest to heavy metal contamination and health problems of the inhabitants. All this resulted 1988 in an uprising by the islanders to protect their land with help of the Bougainville Revolutionary Army (BRA). A violent civil war developed against the military forces of Papua New Guinea, the mine was closed, all whites left the island with the last ship and left it to its fate. The whole world closed their eyes, the uproars lasted 10 years and around 15'000 people died. Either killed by the army or due lack of medical facilities and medicaments.
Against this backdrop Jones sets his tale of the last white man who couldn't leave his native wife and is now trapped with all the villagers. He sets up an improvised school and starts reading from Dicken's "Great Expectations" to the children.
The story is told by Matilda, a 13 years old girl, who is especially impressed by Pip and the strange Victorian world where there is snow, colder than imaginable. Matilda's overzealous Christian mother expresses an extreme distrust of the teacher and the ungodly book ... which eventually will lead to disaster.
It should be a heartbreaking story, it is in some way, but didn't quite work with me. Jones is a white man from New Zealand - but writes as a black girl who has spoken Pidgin her whole life. Matilda appeared to me at times too white, too worldly (and wordy) to be credibly native. She is distanced, hides her feelings (if she has any). Well, I just wasn't really awed by this construction.
But Jones' merit is to have pointed at a war which happend, unnoticed by the world, not so long ago. The copper mine is still closed yet.
After this book I also was curious to read
Great Expectations
:)
---

in the fridge
--------------

Dear finder

Thank you for looking up Bookcrossing and entering the number. Please, kindly write a short journal entry, that you own the book now. You can do this anonymously, but it's much more fun if you'll become a member and write under your nick name. It's still anonymous, but you'll get a notification every time somebody writes a new entry. You are able to follow the book's voyage and read the opinions of other readers. Bookcrossing is fun, it's free and free of spam. Try it, it might change your life. Or at least your bookshelf ;)

happy reading
=^,^= spy
---