Le Secret ottoman
Registered by

souram
of
Genève
,
Genève
Switzerland on 5/6/2021
4 journalers for this copy...

Le bookcrossing fait (re)découvrir le monde.
Rejoignez-nous !
---


Au début, alors que Vienne est assiégée en 1683 (par une armée ottomane) survient un événement que nul ne trouvera raconté dans les livres d'histoire. Tout bascule alors.
Image: peinture représentant le siège de Vienne en 1683.
Ce roman se déroule forcément, vu ses péripéties, à plusieurs époques: les Temps modernes (spécialement en 1683) 1935 et le XXIe siècle. Dans plus d'une ville ou pays: Paris, Vienne (Autriche) à Palmyre (Syrie).
---

---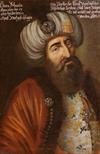 Kamal et Nisrine (cette dernière ayant subi un événement dévastateur) s'en vont d'une façon originale. Leur voyage les emmène d'abord, grâce au secret révélé à Palmyre... (mais je n'en dis pas plus).
Au-delà des péripéties hors du commun, ce roman inclut des questions politiques, philosophiques, pose la question de la légitimité du pouvoir, et de l'alternative entre despotisme et démocratie. Avec au coeur du problème, le siège de Vienne par les Ottomans en 1683.
Image: Kara Moustafa, exécuté en décembre 1683 à Belgrade à cause de l'échec du siège de Vienne.
---

Kamal prend d'énormes risques pour infléchir le cours des événements et donc changer l'histoire de l'Europe. Haletant. Cela dit, dans l'histoire réelle, un détail, une erreur stratégique ou au contraire une présence d'esprit au moment décisif peuvent réellement décider de l'issue d'une bataille (du temps des batailles).

Le roman figure sur plus d'une liste de souhaits. Je lance donc un bookray:
Liste du ray:
- Neige78
- Tamsine
---

Released 4 mos ago (5/10/2021 UTC) at A Book Ray, A Bookray -- Controlled Releases
CONTROLLED RELEASE NOTES:
Il ne t'est jamais donné de rêve sans le pouvoir de le réaliser. (Richard Bach)

Deux bookcrossers l'ont sur leur liste de souhaits.





---
Enfin arrivé ! Merci, Souram !
---
Bien aimé mais pas lu dans l'ordre. J'ai sauté le début pour y revenir ensuite ! J'ai bien aimé les considérations historiques (siège de Vienne, naissance de l'EI..) et politiques. Un livre atypique et instructif. Merci, Souram, pour le partage :)
---
Le livre s'en va rendre visite à Indy ! Bonne lecture, Indy :)
---

Bien arrivé, avec du bon thé ! Merci Neige.
---

Quel livre extraordinaire, un véritable coup de cœur.
Et pourtant, l'incipit est d'une violence extrême et inattendue. Le lecteur se retrouve plongé dans un monde qu'il reconnaît mais qui n'est pas le sien ; comme dans toute uchronie, il est face à ce qui aurait pu être, qui n'est pas, qui sera peut-être. Là-dessus se greffe [le secret de Palmyre], et l'uchronie devient thriller.
Mais le tour de force de l'auteur, c'est d'une part tous les échos et les passerelles avec des événements et des personnages contemporains, et d'autre part les réflexions autour de société, de la liberté, de la démocratie, de la foi, du bien et du mal, de la responsabilité... J'ai été particulièrement émue de me retrouver à Palmyre, un endroit que j'aurais tant aimé visiter. En effet les échos résonnent forcément, poussant le lecteur à s'interroger malgré lui, et entraînent une sacrée prise de recul. J'en reste admirative.
---

Journal Entry
12
by

Indy2012

at
to next participant, a ring/ray -- Controlled Releases on Tuesday, August 10, 2021
Released 1 mo ago (8/10/2021 UTC) at to next participant, a ring/ray -- Controlled Releases
CONTROLLED RELEASE NOTES:
Je quitte avec regret l'ambiance de ce livre que j'ai beaucoup aimé, et le fais suivre. Bon voyage, et excellente lecture !
---

Le livre est bien arrivé, plein de l'enthousiasme d'Indy ! :-)))
---