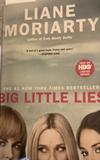 Big Little Lies
2 journalers for this copy...

I picked this up at the little free library in Claresholm Alberta when we were camping.

From amazon...
A murder...A tragic accident...Or just parents behaving badly? What's indisputable is that someone is dead.

Madeline is a force to be reckoned with. She's funny, biting, and passionate; she remembers everything and forgives no one. Celeste is the kind of beautiful woman who makes the world stop and stare but she is paying a price for the illusion of perfection. New to town, single mom Jane is so young that another mother mistakes her for a nanny. She comes with a mysterious past and a sadness beyond her years. These three women are at different crossroads, but they will all wind up in the same shocking place.

Big Little Lies is a brilliant take on ex-husbands and second wives, mothers and daughters, schoolyard scandal, and the little lies that can turn lethal.
---

Journal Entry
2
by
crossingguardma
at
Calgary, Alberta Canada on Monday, April 19, 2021
I mostly "read" this with an audio book. I really liked the reader. She made it very interesting with her accent and expressions. I recommend that if you are so inclined.

This story indicates that something has happened at the school trivia night by giving little snippets of the event regularly through the book. It takes a while for the story to be told and lots of pondering...what actually happened, with who, how, when.

I really enjoyed the story but I think a lot had to do with the audio format!
---

Journal Entry
3
by
crossingguardma
at
Calgary, Alberta Canada on Monday, April 19, 2021
Another porch swap out due to continuing covid restrictions. Thank you Sing-song for dropping off some books and picking some up!
---
I did a porch book exchange with crossingguardma and also got a bonus Covid style walk!
---
Oh my - who died????? The story is spun out, with flash forwards to statements made by parents after the event where the tragedy happened. It was a little hard to put down. Bullying - in school by children and the adults around them. So sad how accusations are made and the challenges of dealing with bullies who threaten victims. These include the people in domestic violence.
---