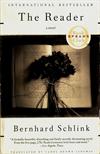 The Reader
2 journalers for this copy...

From amazon.com:

"Hailed for its coiled eroticism and the moral claims it makes upon the reader, this mesmerizing novel is a story of love and secrets, horror and compassion, unfolding against the haunted landscape of postwar Germany.

When he falls ill on his way home from school, fifteen-year-old Michael Berg is rescued by Hanna, a woman twice his age. In time she becomes his lover—then she inexplicably disappears. When Michael next sees her, he is a young law student, and she is on trial for a hideous crime. As he watches her refuse to defend her innocence, Michael gradually realizes that Hanna may be guarding a secret she considers more shameful than murder.

AMAZON.COM REVIEW
Oprah Book Club® Selection, February 1999: Originally published in Switzerland, and gracefully translated into English by Carol Brown Janeway, The Reader is a brief tale about sex, love, reading, and shame in postwar Germany. Michael Berg is 15 when he begins a long, obsessive affair with Hanna, an enigmatic older woman. He never learns very much about her, and when she disappears one day, he expects never to see her again. But, to his horror, he does. Hanna is a defendant in a trial related to Germany's Nazi past, and it soon becomes clear that she is guilty of an unspeakable crime. As Michael follows the trial, he struggles with an overwhelming question: What should his generation do with its knowledge of the Holocaust? "We should not believe we can comprehend the incomprehensible, we may not compare the incomparable.... Should we only fall silent in revulsion, shame, and guilt? To what purpose?"
The Reader, which won the Boston Book Review's Fisk Fiction Prize, wrestles with many more demons in its few, remarkably lucid pages. What does it mean to love those people--parents, grandparents, even lovers--who committed the worst atrocities the world has ever known? And is any atonement possible through literature? Schlink's prose is clean and pared down, stripped of unnecessary imagery, dialogue, and excess in any form. What remains is an austerely beautiful narrative of the attempt to breach the gap between Germany's pre- and postwar generations, between the guilty and the innocent, and between words and silence. --R. Ellis

ABOUT THE AUTHOR
Bernhard Schlink was born in Germany in 1944. A professor of law at the University of Berlin and a practicing judge, he is also the author of several prize-winning crime novels. He lives in Bonn and Berlin.

PRODUCT DETAILS
ASIN : 0375707972
Publisher : Vintage (January 1, 1997)
Language : English
Paperback : 218 pages
ISBN-10 : 9780375707971
ISBN-13 : 978-0375707971
Item Weight : 6.4 ounces
Dimensions : 5.2 x 0.6 x 8 inches
Best Sellers Rank: #24,797 in Books
#18 in German Literature (Books)
#2,664 in Literary Fiction (Books)
#2,707 in Romantic Suspense (Books)
Customer Reviews: 4.3 out of 5 stars (1,464 ratings)"
---

Welcome to BookCrossing!

Thanks for checking the site out. I hope you enjoy both the book and the site. People all over the world are tracking their books through BookCrossing. While you're here, I'd really appreciate it if you'd make a journal entry for this book so I know that it's safe. You may choose to remain anonymous or to join (it's free).

If you do decide to become a BookCrosser please consider using me, Davros-10, as the member who referred you. If you are already familiar with BookCrossing, thanks for picking up the book, I hope it is one you were looking for!

Please feel free to keep this book for as long as you wish, and whenever you're ready pass it on to a friend, or leave it "in the wild" for someone else to find. Then watch its journey - you'll be alerted by email each time someone makes a new journal entry. It's all confidential, free and fun (and addictive - but in a GOOD way)!

As I have already read it several years ago, given to KEMS.
---
---