Step by Step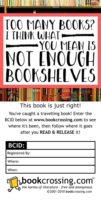 2 journalers for this copy...

In TV adventurer Simon Reeve's bestselling memoir he describes how he has journeyed across epic landscapes, dodged bullets on frontlines, walked through minefields and been detained for spying by the KGB. His travels have taken him across jungles, deserts, mountains and oceans, and to some of the most beautiful, dangerous and remote regions of the world.

In this revelatory account of his life Simon gives the full story behind some of his favourite expeditions, and traces his own inspiring personal journey back to leaving school without qualifications, teetering on a bridge, and then overcoming his challenges by climbing to a 'Lost Valley' and changing his life ... step by step.
---

Released 1 wk ago (10/8/2021 UTC) at Gateshead, Tyne and Wear United Kingdom
CONTROLLED RELEASE NOTES:
Sending to someone from the UK 2021 birthday group . So sorry this is late, hope you had a wonderful birthday
---
Thank you for this wishlist book and all the other gifts. A wonderful parcel.
---