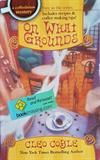 On What Grounds (Coffeehouse Mystery #1)
Registered by

Tarya

of
Helsinki
,
Uusimaa / Nyland
Finland on 3/27/2021
2 journalers for this copy...

Journal Entry
1
by

Tarya

from
Helsinki
,
Uusimaa / Nyland
Finland on Saturday, March 27, 2021
The first charming mystery in the New York Times bestselling Coffeehouse Mystery series—where caffeine and crime are always brewing...

Clare Cosi used to manage the historic Village Blend coffeehouse... until she opted for quieter pastures and a more suburban life. But after ten years and a little friendly cajoling from the owner (a fresh pot of Jamaican Blue Mountain was all it took), she's back to the grind, serving coffee and solving crime - one cup at a time...

With a sprawling rent-free apartment directly above the Village Blend, her cat Java by her side, and plenty of coffeehouse redecorating ideas, Clare is thrilled to return to work. Until she discovers the assistant manager unconscious in the back of the store, coffee grounds strewn everywhere.

Police arrive on the scene to investigate. But when they find no sign of forced entry or foul play, they deem it an accident. Case closed. But Clare is not convinced. And after the police leave, there are a few things she just can't get out of her mind... Why was the trash bin in the wrong place? If this wasn't an accident, is Clare in danger? And... are all detectives this handsome?

Includes recipes and coffee-making tips!

Berkley Prime Crime 2003

- A BWB order, picked up from the local post"office" this morning :)
---

I got Latte Trouble (https://www.bookcrossing.com/journal/6167010/) already in September 2013 (!), but I guess I'll start reading from this book ;) Latte Trouble is a Coffeehouse Mystery #3.
---

Journal Entry
3
by

Tarya

at
Forssa, Kanta-Häme / Egentliga Tavastland Finland on Monday, April 5, 2021
Kirja varattu Soozreaderille, jonka hippasin sillä Toivelistahipassa. / Reserved for Soozreader as a wishlist tag.
---

Journal Entry
4
by

Tarya

at
Forssa, Kanta-Häme / Egentliga Tavastland Finland on Tuesday, April 27, 2021
I started reading this yesterday, but as I have five or six other books unfinished too – and because I read so much slower in English – it'll take some time before this will travel to Joensuu ;) I'm on page 32/275, the beginning has been promising :)
---

Journal Entry
5
by

Tarya

at
Forssa, Kanta-Häme / Egentliga Tavastland Finland on Sunday, May 9, 2021
Released 1 mo ago (5/9/2021 UTC) at Forssa, Kanta-Häme / Egentliga Tavastland Finland
CONTROLLED RELEASE NOTES:
I finished the book today and also mailed it already in the evening :) Although the plot was implausible, partly even silly, as a coffee lover I enjoyed the atmosphere of Village Blend and all the descriptions of coffee making :)
The coffee related reference to 9/11 was heart-warming, I hope things like that really happened during those devastating days. And with this I totally agree:
"To Madame, a cup of morning coffee was more than a pick-me-up, it was fortification against whatever the world was about to throw at you, be it the best or the worst."
One strange coincidence there was in the book. Just recently I read Alexandra Marinina's crime novel
Murhaaja vastoin tahtoaan
and in that book the main character drank coffee with lemon too, although her drink was instant coffee. Nevertheless I find it very strange taste combination :O
I have #3 of the series on my TBR pile and #2 I have ordered from an online store. Thus there'll be more Village Blend for me :)
Enjoy the trip to New York!

---

Journal Entry
6
by

Soozreader
at
Joensuu, Pohjois-Karjala / Norra Karelen Finland on Thursday, May 13, 2021
Thank you very much for this wishlist book (first part in the series, yippee!) and for the chocolate and postcard!
---