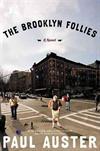 The Brooklyn Follies
2 journalers for this copy...

Picador Paperback Edition, published by Henry Holt and Company, 2006.
Goodreads.com:
"Nathan Glass has come to Brooklyn to die. Divorced, retired, estranged from his only daughter, the former life insurance salesman seeks only solitude and anonymity. Then Glass encounters his long-lost nephew, Tom Wood, who is working in a local bookstore—a far cry from the brilliant academic career Tom had begun when Nathan saw him last. Tom's boss is the colorful and charismatic Harry Brightman—a.k.a. Harry Dunkel—once the owner of a Chicago art gallery, whom fate has also brought to the "ancient kingdom of Brooklyn, New York." Through Tom and Harry, Nathan's world gradually broadens to include a new circle of acquaintances. He soon finds himself drawn into a scam involving a forged page of The Scarlet Letter, and begins to undertake his own literary venture, The Book of Human Folly, an account of "every blunder, every pratfall, every embarrassment, every idiocy, every foible, and every inane act I have committed during my long and checkered career as a man."
The Brooklyn Follies is Paul Auster's warmest, most exuberant novel, a moving, unforgettable hymn to the glories and mysteries of ordinary human life."
***
Edit 16th of July 2021:
Such a great story! After reading this book I was so excited about it. Then I started to write this journal entry and found that I've read this book also previously
(link)
, eleven years ago. When I found this newer one in the charity shop, I was sure I hadn't read this previously. I was really dumbfounded, that I didn't remember reading this. That's not so unusual, but the story was so marvelous and also the numerous anecdotes, so that's why I was so surprised.
Still, I liked Auster's language a lot. Still, I'm going to give this to my husband to read again. I told him, that he's read this previously, so let's see if he remembers the story better.
With this book I participate in Delenna's
Travelling around the world -challenge
, because one of the characters lives in Mexico.
---

Journal Entry
2
by
halonhakkaaja
at
Kuopio, Pohjois-Savo / Norra Savolax Finland on Wednesday, July 28, 2021
Released 1 mo ago (7/29/2021 UTC) at Kuopio, Pohjois-Savo / Norra Savolax Finland
CONTROLLED RELEASE NOTES:
Pääkirjaston ala-aulan vaihtokärryssä. Hyviä lukuhetkiä kirjan parissa!
---
Journal Entry
3
by
Suhari4ever
at
Kuopio, Pohjois-Savo / Norra Savolax Finland on Thursday, July 29, 2021
Found this lovely paperback, (among others, all of which I hauled home) on library of Kuopio.
---