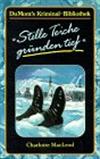 Stille Teiche gründen tief
Registered by

RazFaz

of
Karlsruhe
,
Baden-Württemberg
Germany on 3/20/2021
2 journalers for this copy...

Journal Entry
1
by

RazFaz

from
Karlsruhe
,
Baden-Württemberg
Germany on Saturday, March 20, 2021
Band 6 der Peter-Shandy-Reihe

Inhalt:
Eine Leiche beim Tag des Murmeltieres und ein totes Ehepaar im Nachbardorf bringen Präsident Svenson vom Balaclava Agricultural College nicht aus der Fassung. Auch auf die Ermordung eines alten Ehepaares im Nachbardorf reagiert er gefasst. Doch die Behauptung, der grundsolide Stifter des College habe vor hundert Jahren das Wasserreservoir von Balaclava bei einer Wette verloren, geht entschieden zu weit! Professor Peter Shandy steht eine aufregende Zeit bevor, schließlich gilt es nicht nur, einen Mörder zu finden, sondern auch den Ruf des College zu retten.
---

Haz sich heute in guter Gesellschaft auf den Weg in den Norden gemacht.
***
Lieber Finder dieses Buches,
Du hast also ein Buch gefunden, das bei Bookcrossing registriert ist! Wenn Du hier eine kleine Nachricht schreibst, weiß ich, dass es gefunden worden ist. Vielleicht hast Du auch Lust, mich wissen zu lassen, wie Dir das Buch gefallen hat und was Du als nächstes damit machen möchtest? Das Buch kannst du (das ist ja auch der Zweck) lesen und dann wieder frei lassen, damit es seine Reise um die Welt fortsetzen kann. Oder auch an Freunde weitergeben.
Bookcrossing ist eine Plattform, die die "Wanderwege" von Büchern beobachtet -- anonym, kostenlos, spamfrei und ohne weitere Verpflichtungen!

Vielen Dank und viel Spaß mit dem Buch!
***
Dear Finder of this book,

I'm so glad it has found a home with you. I hope you enjoy reading it and that you might take a few moments to jot down here what you thought about the book, or about finding it, or about bookcrossing.

You don't have to join or sign up to bookcrossing to leave a comment here but if you do join, you will receive emails to alert you when others make a journal entry for this book and track its travels across the world. If you decide to join bookcrossing, now that you have discovered the site, I'd be delighted if you would mention me - RazFaz - as the person who introduced you to the site.

Happy reading,
RazFaz
---
Journal Entry
3
by

Andrea-Berlin

at
Berlin (irgendwo/somewhere), Berlin Germany on Monday, April 12, 2021

Heute kamen gleich drei Krimis für mich an mit einer passenden Karte für schlaflose Nächte und Aufklebern mit einem wunderschönen Foto vom Schloss Karlsruhe, so ähnlich wie das Bild links :-) Ich danke Dir ganz herzlich für die aufmunternde Post, RazFaz!
Peter Shandy - Serie
1 Schlaf in himmlischer Ruh' 1978 – unregistriert, da auseinanderfallendes Buch von Medimops kam
2 ... freu dich des Lebens 1981 www.bookcrossing.com/journal/16170041
3 Über Stock und Runenstein 1982 www.bookcrossing.com/journal/16178007
4 Der Kater lässt das Mausen nicht 1983 www.bookcrossing.com/journal/16174579/
5 The Curse of the Giant Hogweed (noch nicht übersetzt) 1985
6 Stille Teiche gründen tief 1987 www.bookcrossing.com/journal/16174559/
7 Wenn der Wetterhahn kräht 1989 www.bookcrossing.com/journal/16178019
8 Eine Eule kommt selten allein 1991 unregistriert, da auseinangefallenes Buch von Medimops kam
9 Miss Rondels Lupinen 1994 ab 14 (!!) Euro gebraucht zu bekommen, da verzichte ich.
10 Aus für den Milchmann 1996 unregistriert, da ein sehr zerlesenes Buch von Medimops kam
---