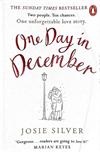 One Day in December
Registered by

dacejav

of
Salaspils
,
Rīgas rajons
Latvia on 3/18/2021
2 journalers for this copy...
Journal Entry
1
by

dacejav

from
Salaspils
,
Rīgas rajons
Latvia on Thursday, March 18, 2021
I bought this paperback in the London Luton airport and read half of it during my 5 hour flight to Kutaisi.
---
Mailed to Bluemchenblatt as a RABCK
---
Journal Entry
3
by

Bluemchenblatt
at
Paris, Ile-de-France France on Friday, April 30, 2021
Thank you for the RABCK and the matching postcard!
The question is: read it now or read it 'in season'? Tough decisions!
Backcover text:
Laurie is pretty sure love at first sight doesn't exist. After all, life isn't a scene from the movies, is it?

But then, through a misted-up bus window one snowy December day, she sees a man who she instantly knows is the one. Their eyes meet, there's a moment of pure magic...and then her bus drives away.

Laurie thinks she'll never see the boy from the bus again. But at their Christmas party a year later, her best friend Sarah introduces her to the new love of her life. Who is, of cours, the boy from the bus.

Determined to let him go,
Laurie gets on with her life.

But what if fate has other plans?
---
Journal Entry
4
by

Bluemchenblatt
at
Paris, Ile-de-France France on Friday, June 18, 2021
It is an easy read. The doubts that are expressed by Laurie are probably the same many of us have, in many ways, which make her in many ways likeable. The setting and the initial outlook are very promising and I enjoyed reading the beginning. So far for the good points.
The back cover text gives away too much. It makes the story even more predictable than it is anyway. I never really warmed to Jack - for some reason he didn't seem very likeable but rather bland to me. The halfway journal entry style of storytelling with how the story was split and extended over years didn't convince me.

I guess my expectations might have simply been too high from the start, knowing that the previous readers have liked it very much. From the excerpt of another of Josie Silver's book at the end I also gather her writing style may not be quite right for me.
I'm hoping the next reader will be more enthused.
---