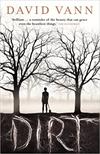 Dirt
Registered by
SophieSilver
of
Siegen
,
Nordrhein-Westfalen
Germany on 3/13/2021
This book is in a Controlled Release!
1 journaler for this copy...

Twenty-two-year-old Galen is a New Age believer on a warpath towards transcendence. He lives with his emotionally dependent mother in a secluded house, surviving on old family money that his Aunt Helen and cousin Jennifer are determined to get their hands on. Galen doesn't know who his father is, his abusive grandfather is dead, and his grandmother is losing her memory. When the family takes a trip to an old cabin in the Sierras, tensions crescendo. Caught in a compromising position, Galen will discover the shocking truth of just how far he will go to attain what it is he craves.



---

Journal Entry
2
by
SophieSilver
at
Siegen, Nordrhein-Westfalen Germany on Sunday, March 14, 2021
Dieses Buch freut sich auf ein neues Regal und einen Eintrag im 'Gästebuch'. Gutes Crossing!

Im Rahmen einer Sammel-Aktion von englischen Büchern für Afrika.
Für eine Schulbibliothek gesendet an Engelbert Kremers, Hilfe für Afrika Hilden e.V..

Schell, Rüdesheimer Str. 110, KH


13. Knochen (-flügel) sponsered durch Das Schlechte Gewissen von Urfin (bis 02.06.2021) DANKE!
12. Knochen (-flügel) sponsored by ? Wer wars? bis Ende Januar 2021 Danke!
11. Knochen (-flügel) sponsored by ? bis Ende Juli 2020
10. Knochen (-flügel) Danke Laborfee! bis 21.12.2019
9.Knochen (-flügel) sponsored by Unbekannt (wer war das?) (bis November 2019) Danke!
8.Knochen (-flügel) sponsored by Unbekannt (wer war das?) (bis Oktober 2019) Danke!
7.Knochen (-flügel) sponsored by Ingwer (bis August 2019) Danke!
6.Knochen (-fügel) sponsored by moerschen (bis März 2019) Danke!
5.Knochen (-flügel) sponsored by Physalis74 (November 2018 bis Januar 2019) Danke!
4.Knochen (-flügel) sponsered by Richter-Di (Jahresflügel bis Oktober 2017!)
3.Knochen (-flügel) sponsered by Cappuccino21 (Jahresflügel)
2.Knochen (-flügel) sponsored by Physalis74 (Jahresflügel bis Januar 2015)
1.Knochen (-flügel) sponsored by Nesti (Jahresflügel)
---