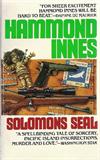 Solomons Seal
1 journaler for this copy...
When estate agent Roy Slingsby is asked to assess the home of a once-powerful shipping dynasty, he begins to learn more about the family's history. His investigations take him to a South Pacific island on the brink of insurrection.
What makes this book so special, however, is the mystery thread that runs through it. Built upon the nuances and minutia of stamp collecting, the plot launches out from the rustic English seaside to Australia and then the South Seas, in particular the islands Bougainville and Buka in Papua New Guinea. Along the way, the reader follows the tale of illicit cargoes, revolutions, and family curses. All the while, the story of generations is held together through the solving a philatelic crime and mystery. Oh, yes, Innes also manages to insert a love story amidst the twisting and turning of family betrayal, hatreds, and jealousies. All told against the backdrop of the sea.
---